As many sources state,
chocolate
in its raw form is one of the most powerful antioxidants, rich in iron and magnesium. We certainly enjoy its exclusive taste in many of our dishes.
One can make this granola as simple or loaded with ingredients, as (s)he wants. Lately, I find myself liking the simple version, where only four ingredients are added to sprouted groats. Besides being a tasty and convenient breakfast option, it also makes an adored and nutritious snack for children. When we're having difficulties keeping Paloma "in check", raw chocolate granola comes in handy.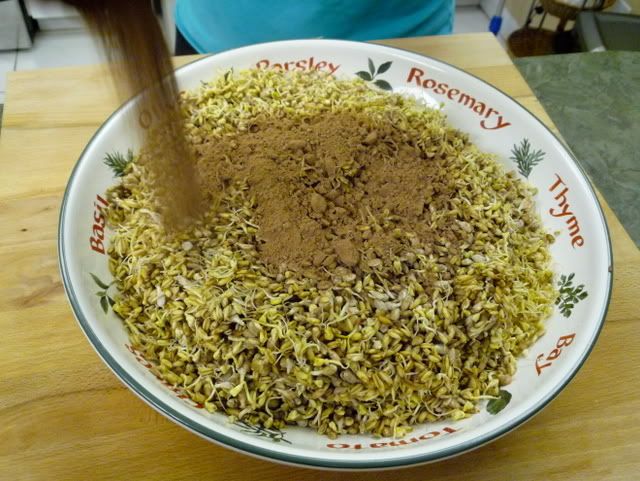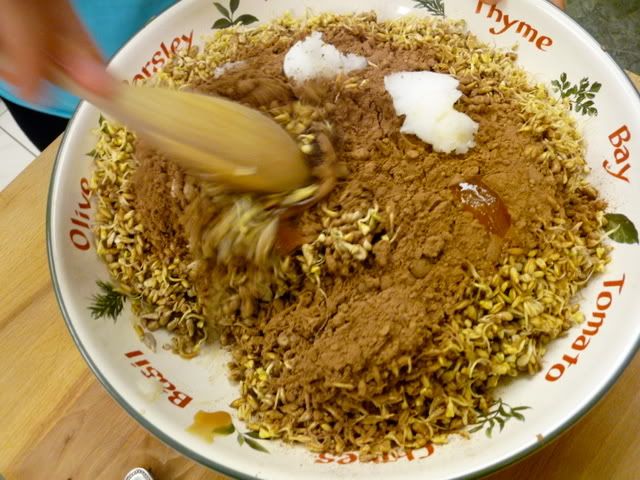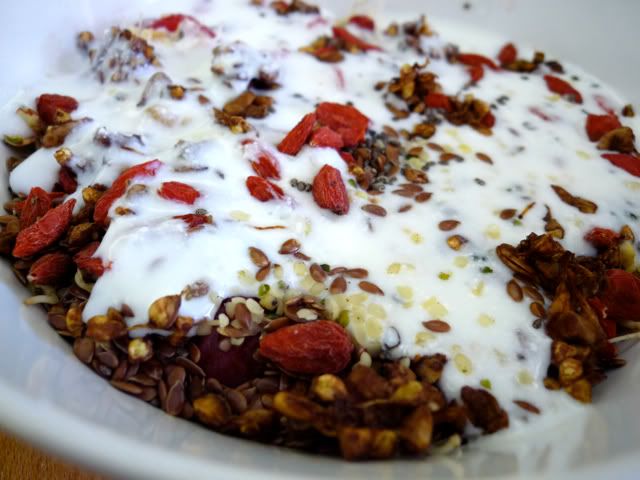 Start with sprouting raw buckwheat, sunflower seeds, and oat groats. I've had no problem finding buckwheat and sunflower seeds that sprout well - most health food and online stores carry them. But the only place I could find truly raw, sprouting oats is The Sprout House, I order them
here
. Despite the customer review, they sprout very well.
Using sprouting bags or trays, germinate buckwheat and oats overnight, and the sunflower seeds - for two hours. After draining and rinsing very well, sprout for two full days, rinsing in the morning and at night. Keep away from direct sunlight. Take care when rinsing buckwheat, it requires a good amount of time and a lot of water to get rid of the sliminess. When the sprouts are ready, I use about half to make granola and preserve the rest for other (upcoming) dishes.
Add raw cacao powder, raw honey, cold-pressed coconut oil, and raw agave nectar - all to taste. Mix well and dehydrate at 105-110F overnight or until crispy. Keep refrigerated in an airtight glass container. This granola can be served by itself, with nut milk, raw goat milk/yogurt, homemade kefir (recipe will follow), or with any kind of seasonal fruits, nuts and seeds. Enjoy.