It is not a secret that we are all addicted to bread, the kind that is made with wheat flour - it has been a staple and a comfort to so many of us in many different cultures. If you do enough research on wheat, you will soon discover that even in its raw, sprouted form, it is much more of a culprit than a friend (wheatgrass is the exception). I've tried to cross the flour off my ingredient list numerous times before discovering raw food, and every attempt resulted in a struggle.
This onion bread is very aromatic, and pairs well with
green soup
,
salads
,
raw marinara
, and
cheese
. Also, be sure to try mini sandwiches with raw sauerkraut and a slice of tomato on top.
I took the main core of this recipe from a forum, but the idea of embedding the bread with seeds and herbs for garnish and flavour was my own.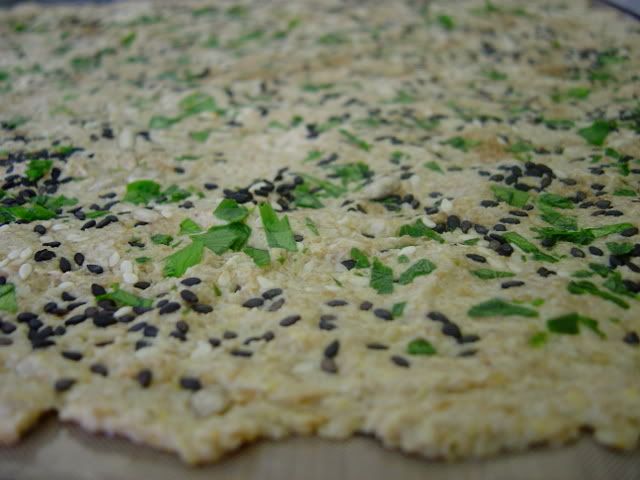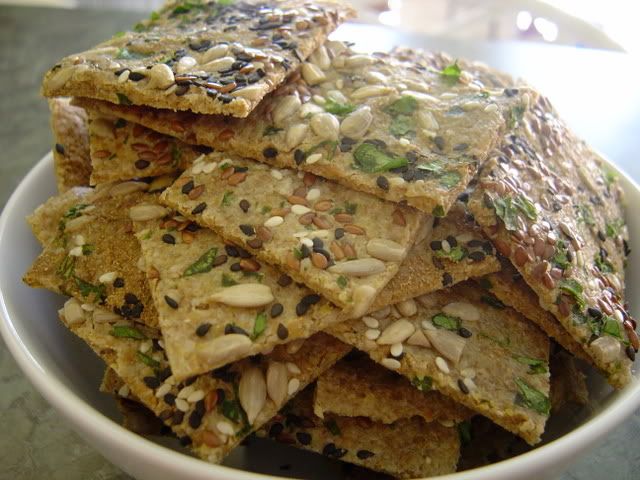 1/2 lb yellow onions - sliced
1 cup raw sunflower seeds - soaked for 1 hour
1/4 cup nama shoyu
1/4 cup olive oil
1 cup flax seeds - ground in a coffee grinder
In a food processor, whirl onions, sunflower seeds, nama shoyu and olive oil until smooth. Add flax seeds and blend until thoroughly combined. Spread on Teflex sheets, sprinkle with poppy seeds, brown/golden/both flax seeds, light/black/both raw sesame seeds, sunflower seeds, and minced parsley. With wet hands press all the garnishing ingredients into the batter. Dehydrate at 105F for 6 hours. Flip, carefully peel the sheet away, and dehydrate for another couple of hours, until the batter is no longer sticky. Cut into crackers of desired size. Return the pieces onto trays and dehydrate for a total of 18-24 hours. Keep refrigerated in air-tight glass containers.
Enjoy!
Post by: A