By now, at 19 months, Paloma chews very well and loves to munch away at the
original Bowl of Goodness
. Still, this baby version remains among her favourite breakfasts.
Ever since becoming interested in raw food, I've been experimenting with making my daughter's ration rich with a variety of different food groups and flavours. Besides the obvious
green smoothies
,
soups
, and fruit purees, the amount of raw options for babies and toddlers who cannot chew very well, is quite limited. I haven't been able to find many recipes of the sort, so to turn the situation around, I started coming up with my own.
Most of our
breakfasts
include grain sprouts, and my intention was to create a similar dish, but one that requires little chewing on Paloma's part. The first logical step was to simply puree freshly sprouted grains together with some fruits. Surprisingly, that doesn't taste too good. When fresh sprouts are broken down completely, their flavour intensifies and becomes quite grassy and unpleasant.
For my next try, I gently dried the sprouts in a dehydrator, and then ground them in a coffee-grinder into a sort of flour.
To specify, I usually mix oat groats, buckwheat, and sunflower seed sprouts, reserved from making
chocolate granola
. I also thought about incorporating other valuable ingredients, such as chia and flax seeds, hemp hearts, goji berries, and raw pistachios*. These were also ground until flour-like. The ground blends hold up well when refrigerated, which is quite convenient for, say, taking with you on the road, or just having handy at all times.
For the base of this raw cereal, I used a dried apricot and prune puree. You can utilize any kind of fruits to make a base for this cereal, but I especially like the combination of those two (unsulfured) - they become creamy in consistency, not to mention their health benefits.
To prepare, soak the dried fruits in purified water for about an hour. Drain, and blend in a food processor, adding some water to create a smooth and creamy preserve. When Paloma was younger, I froze it in small portions, but now, since she eats more, I keep it all refrigerated in a glass jar.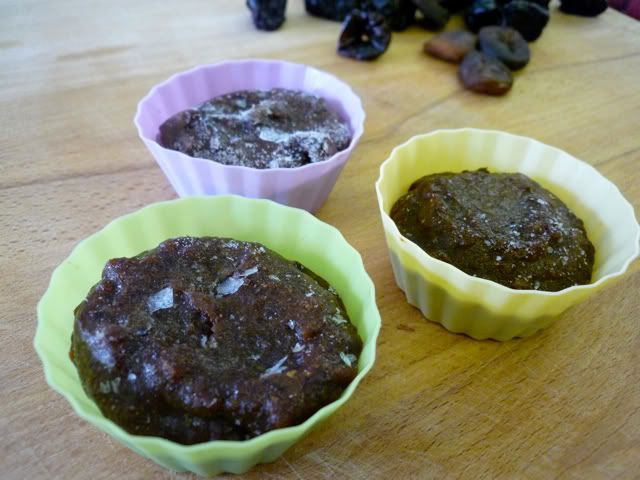 Next, add some of the flour blend into the puree.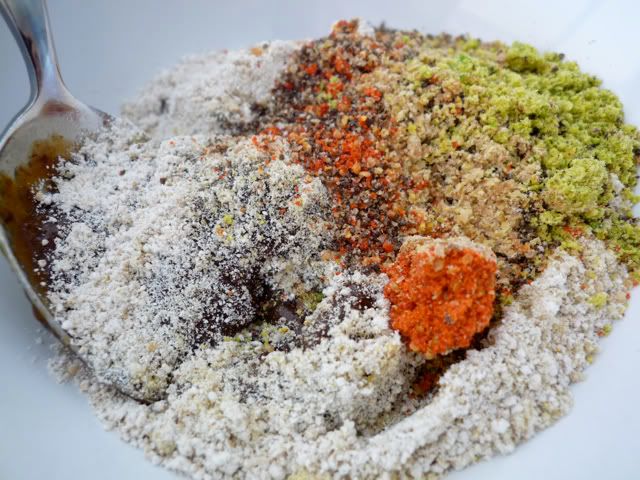 For the final touch, mix in homemade kefir, raw goat milk/yogurt, or nut milk for a vegan version.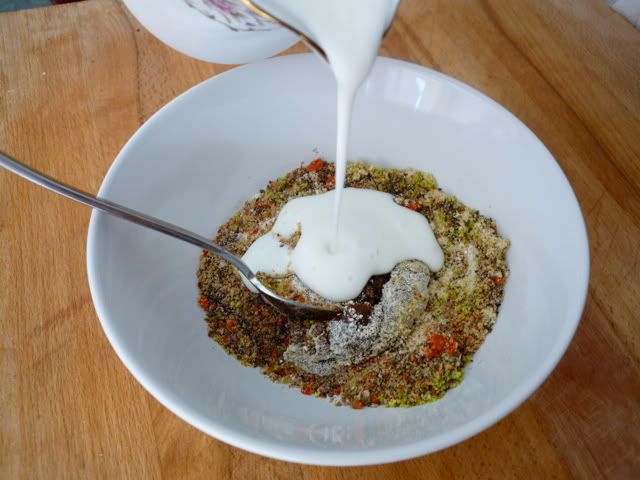 A typical baby breakfast still-life at our house:
*If you worry about giving nuts to your child, just exclude pistachios from the list. I like them particularly because they are the only nuts that contain a significant amount of lutein and zeaxanthin - antioxidants that are great for eyesight.
Bon Appétit to your little ones!
Post by: A