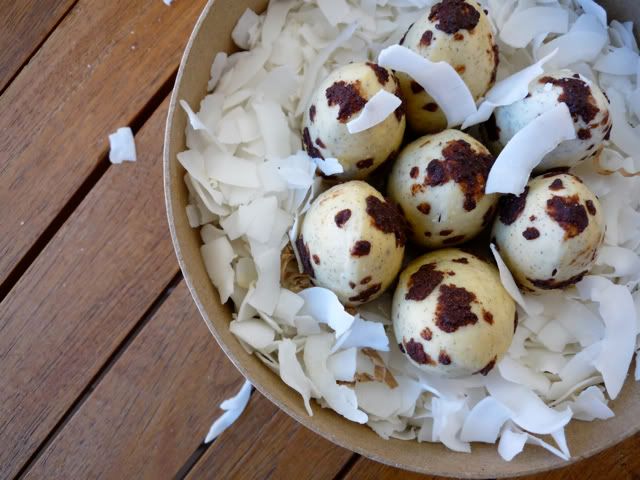 We aren't religious, we celebrate Easter more as a tradition and part of our culture. This year, both the Orthodox and Catholic Easters have aligned, which makes this post more universal, which we're happy about. We decided to go a little crazy this time, inspired by the ever-amazing creations of
Luxirare
. We took the egg as the dominant symbol of Easter and made a likeness of it in delicious dessert form. The challenge was to work from scratch, using only raw ingredients. This undertaking turned out to be more demanding than was expected.
The raw cacao butter is much more fickle than regular chocolate.
It is either too runny and ends up dripping to the bottom of the egg mold, or too thick and unruly when mixed with different powders. It was tough to achieve the right colour, so we experimented with mixing in different raw ingredients, such as maca, lucuma, dried bananas, etc., until attaining just the right shade of white chocolate. The cacao butter was gently heated on a double broiler.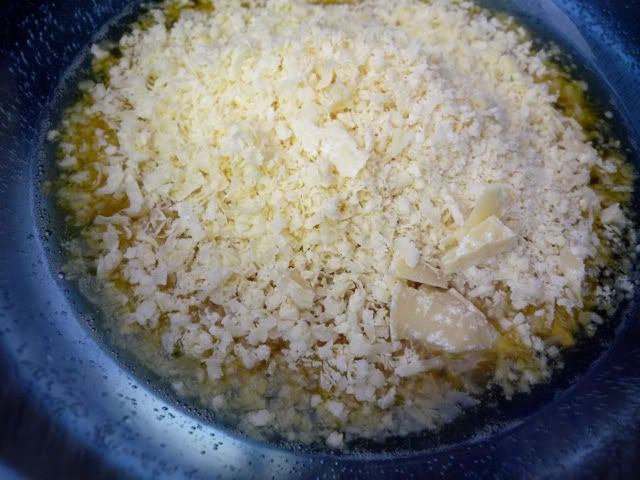 The true breakthrough was the adding of fresh vanilla bean into the chocolate. Almost immediately, the mass resembled the colouring of a quail egg, which we were going for.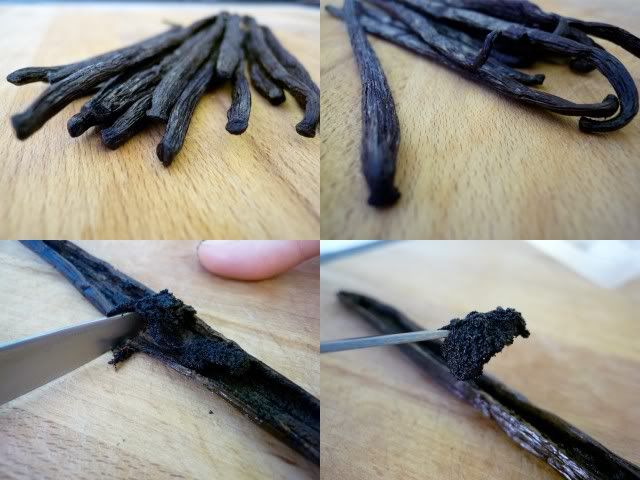 We had two different sized egg molds, one was true to the dimensions of a hen's egg, the other - a quail egg. The chocolate mixture was brushed onto the molds, frozen, and brushed again until a sturdy shell thickness was achieved.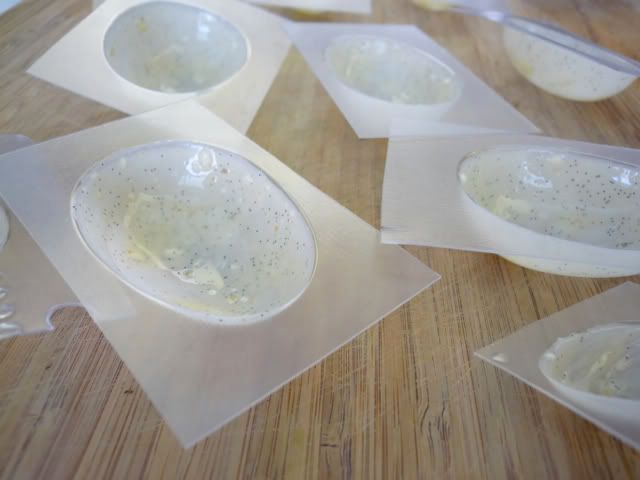 We wanted to make the filling resemble the insides of an actual egg. For the egg white, the meat and water of a young Thai coconut was blended with raw coconut butter, fresh vanilla, and a bit of agave syrup.
For the yolk, we used fresh and dried mango, which was blended with a small amount of agave syrup.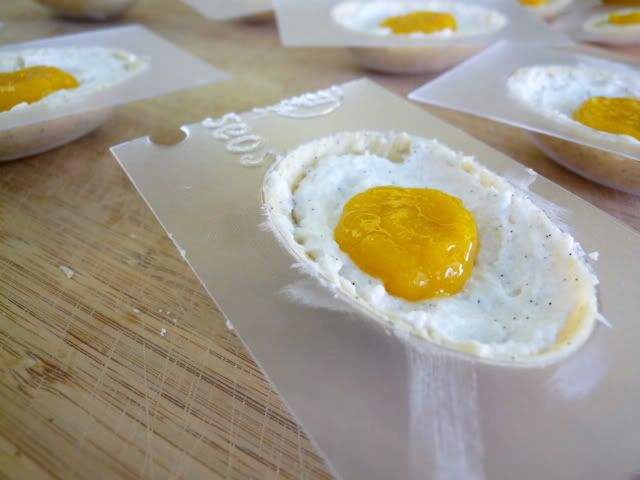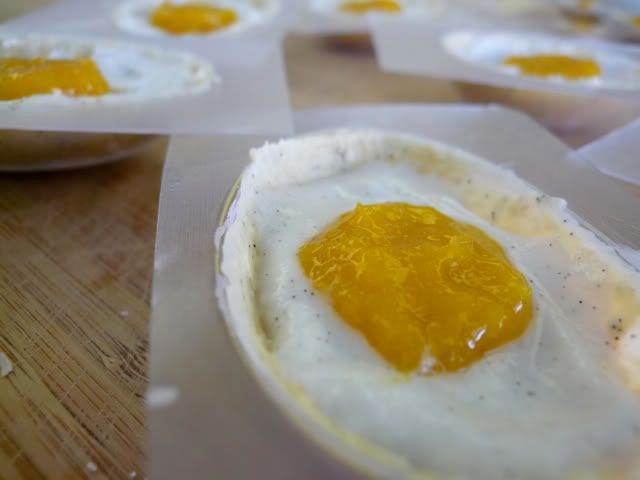 We glued the shell halves together by adding more of the same melted chocolate around the edges and freezing to create a whole egg.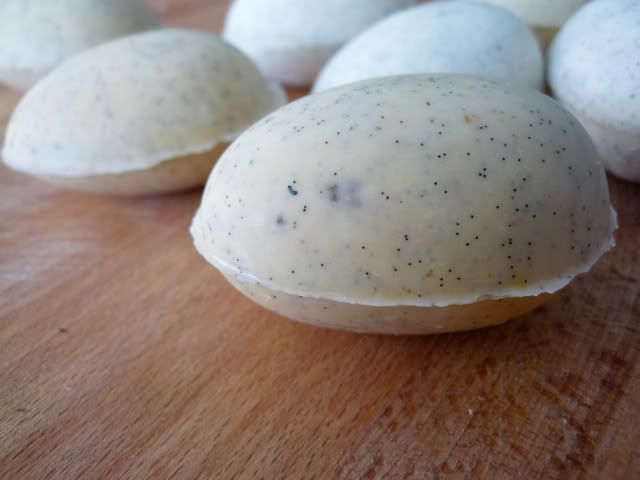 The seal was carefully shaved off.
Since we were going for the appearance of quail eggs, we had to find a way to create characteristic spots. Here, it was logical to use raw
dark chocolate
.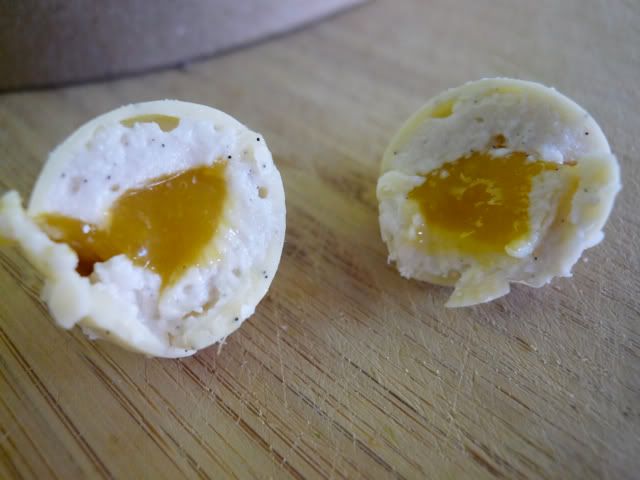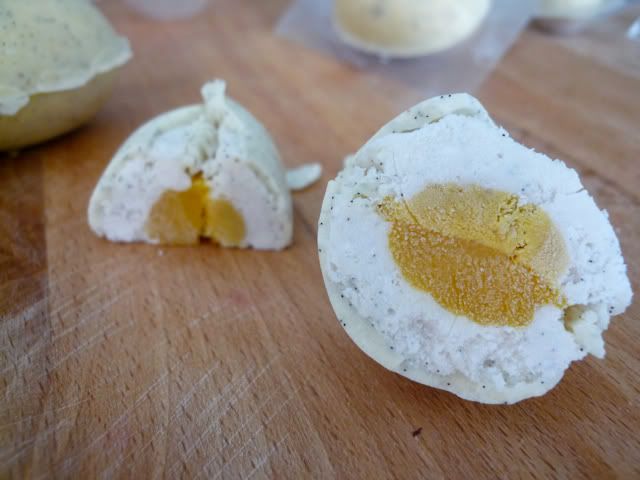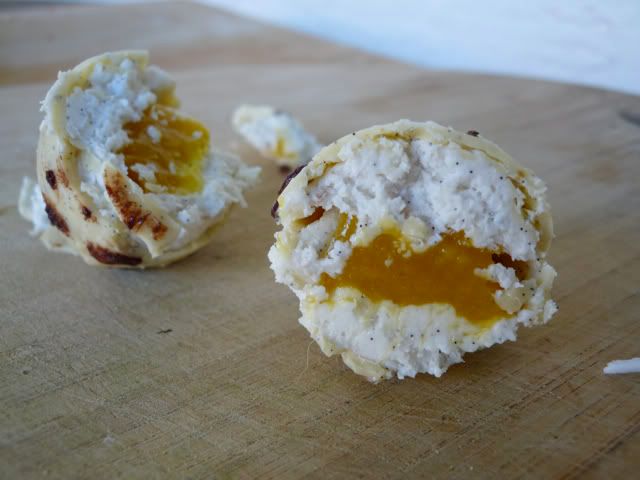 Just to add some variety, we experimented with filling options. The recipe of this particular chocolate filling is from Sarma Melngailis's book
Raw Food, Real World
. (Dark Chocolate Ganache Tart) We also used macadamia nuts, hazelnuts, and berries.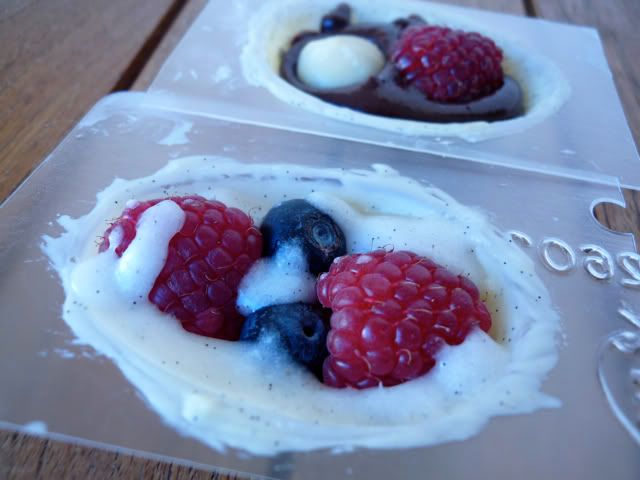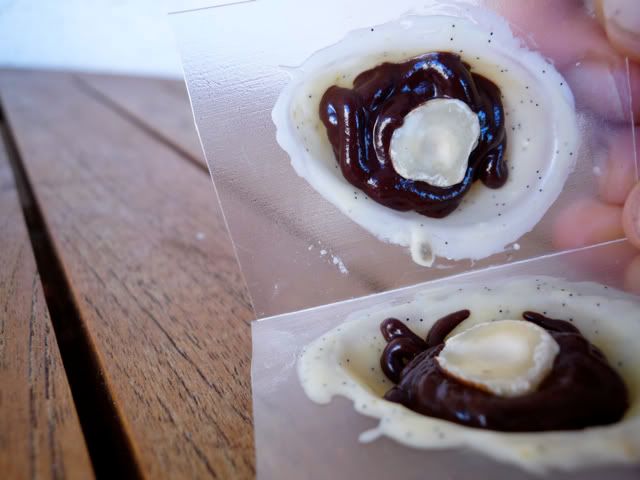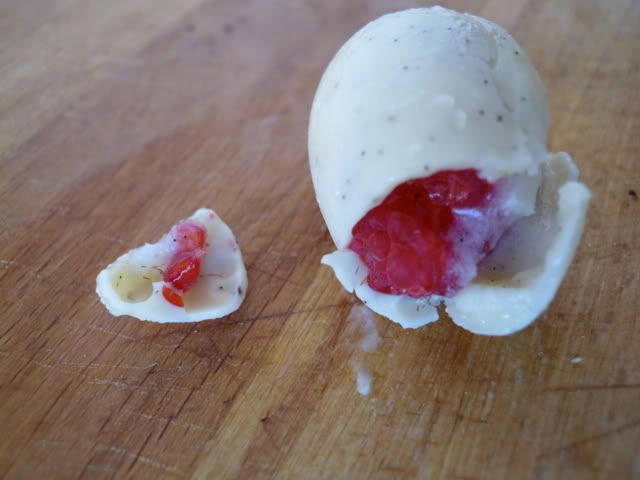 Coconut mixture that went along with the berry filling: meat and water of a young coconut, agave syrup and fresh vanilla whirled together.
The bigger eggs: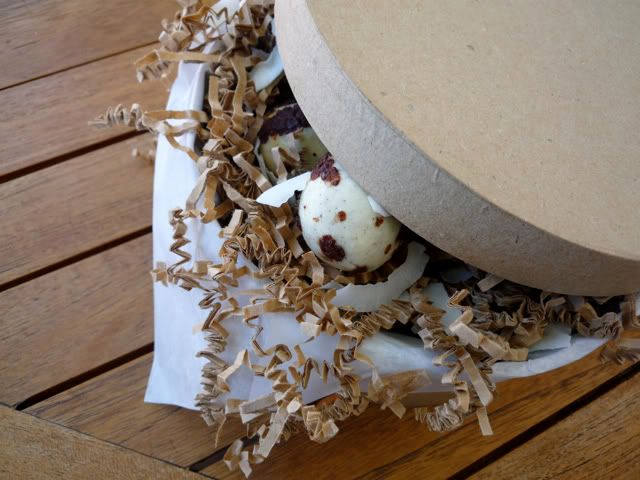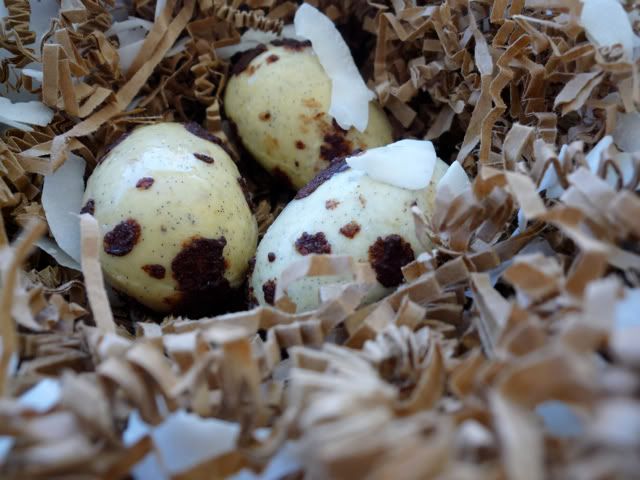 Coconut feathers: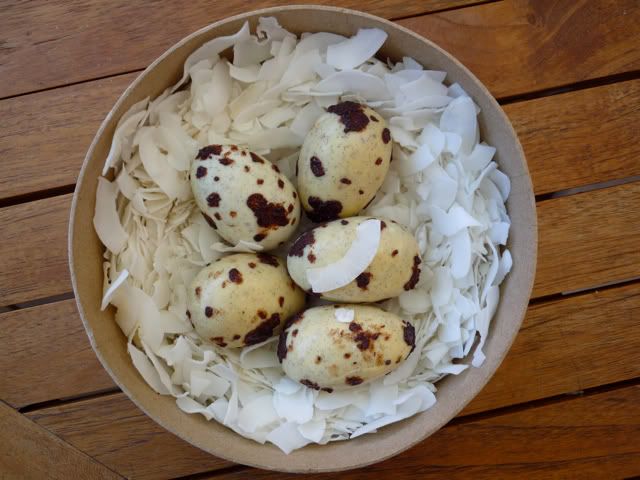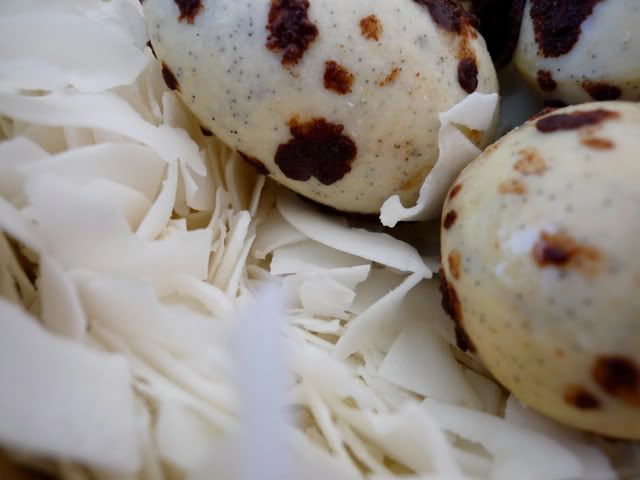 The tiny eggs: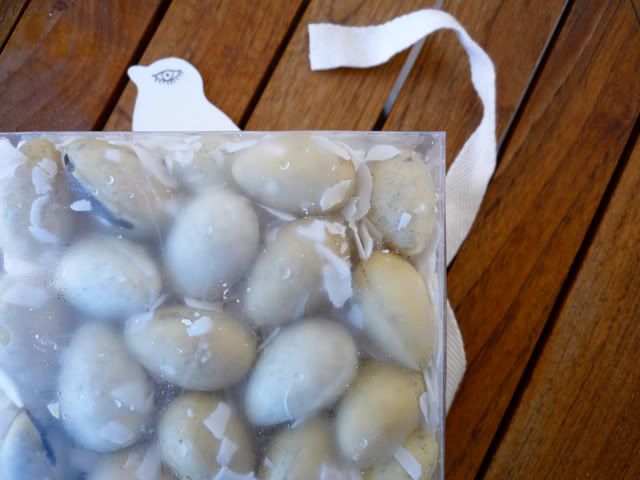 At the end, we thought it would be fun to blend our two main filling ingredients together to make this delightful drink. Young coconut meat and water + one fresh mango: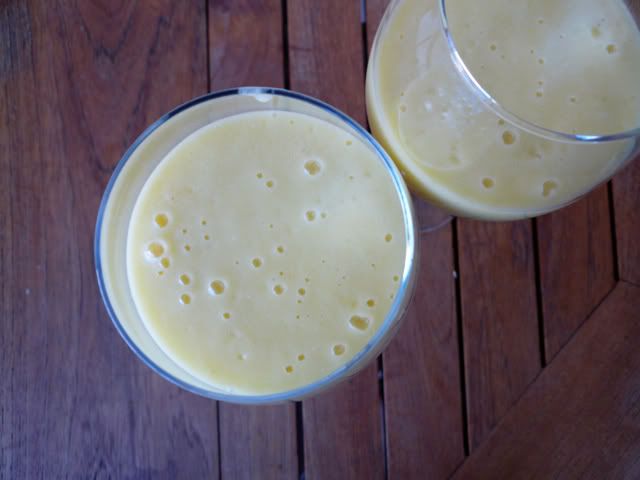 We also made some hollow eggs and melted straw openings though their shells with a hot needle. Filled with the above smoothie: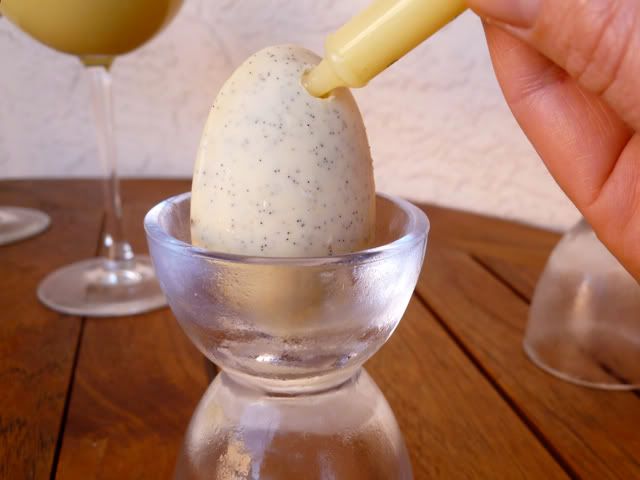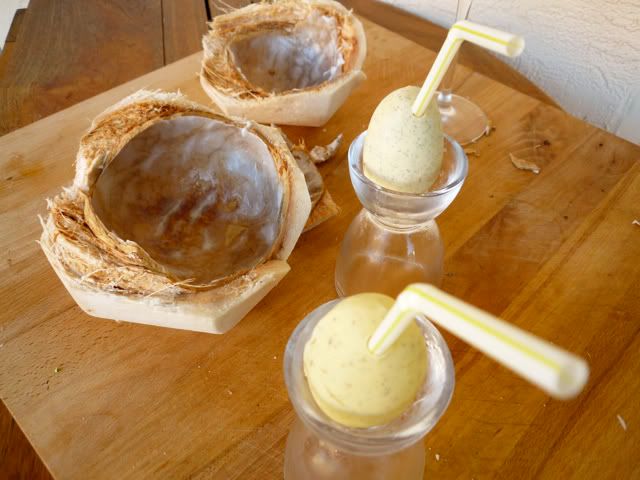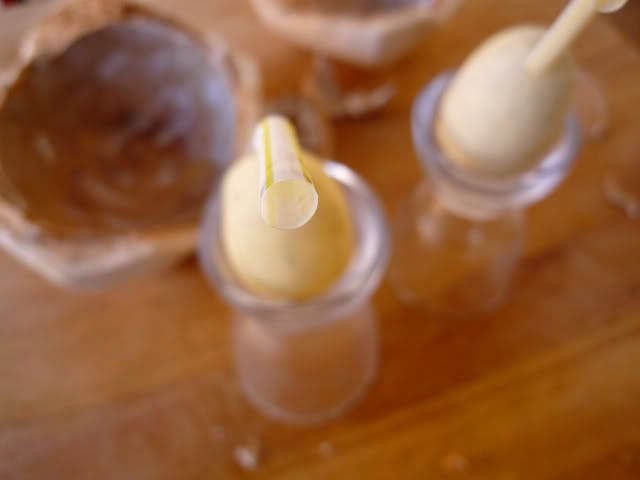 We just had some friends over for an egg tasting and no one could pick a definite favourite. Once frozen, the mango and coconut fillings taste like ice cream. The berry filling, however, is at its best when fresh, as it bleeds and combines with the coconut mixture. Overall, we loved it more than we ever thought we would.
Happy Easter!