This is our favourite post so far: making these snack bars felt so much like being little and having the freedom and creativity to fashion something joyful with your own hands. Back in my childhood in the USSR, toy choices were few, so we always found ways to make our own trinkets to play with. One winter comes to mind, when we as a flock of neighborhood kids dyed water different colours, poured it into glass test tubes, and stuck them into the snow bank to freeze, ending up with a surreal rainbow of ornaments. This lack of readily available goodies forced us to be inventive, and not only with toys, but sweets as well. We came up with our own strange and wonderful concoctions, and they always tasted better than any store-bought delicacy.
As much as we love the Floridian sunshine and warm beaches, we miss having a more than subtle turn of seasons, especially the brilliant colours of autumn leaves. And funnily enough, this June we're going to travel to Canada for the first time, so the lovely shape of the maple leaf seemed like a perfect inspiration for our homemade raw snack bars.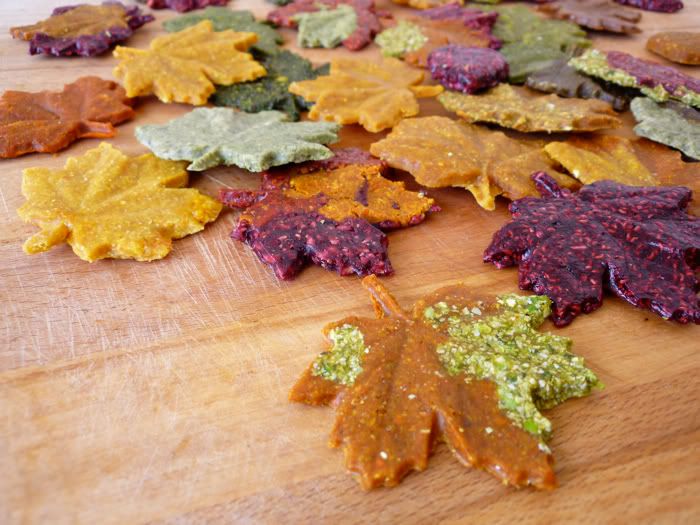 We started with three basic colours, advancing as we go by creating different shades and patterns of fallen leaves.
Our objective was to use only raw ingredients, working from scratch whenever possible. Thus, for the green palate we selected fresh spinach, green beans and kiwi, drying them gently and turning into powder in the coffee grinder. Dried spinach tasted surprisingly good by itself, promising some possibilities for future recipes. Raw pistachios and pumpkin seeds added some substance and color variations into the green scale. The powders were mixed with fresh kiwi puree and some agave syrup.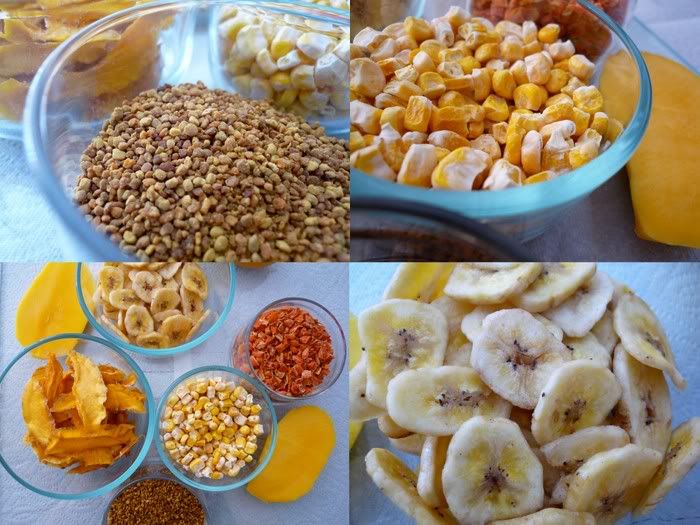 For the yellow colour, fresh mango and bananas were gently dried and turned into powder. We also ground freeze dried corn, carrots, almonds and bee pollen. Fresh mango puree and agave syrup served as a base for the dry ingredients.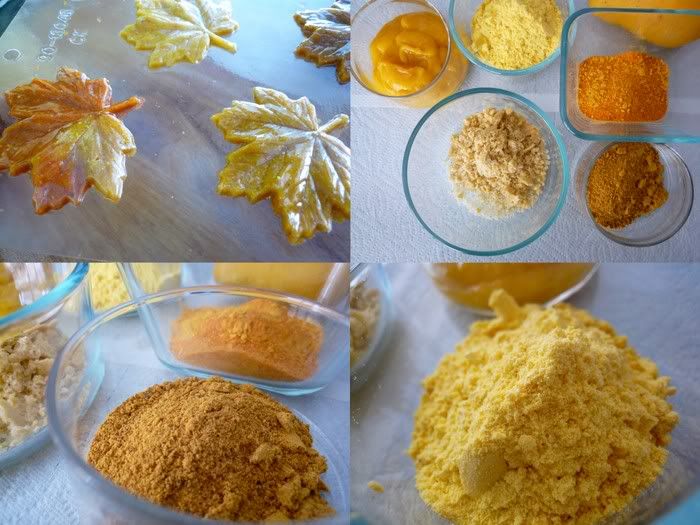 For the red selection, we dried fresh strawberries and powdered them along with goji berries, and freeze dried raspberries, carrots and pomegranate. Here, the base was a fresh strawberry and raspberry puree with some agave syrup. Some mixtures had a bit of hemp protein and maca powder added to them.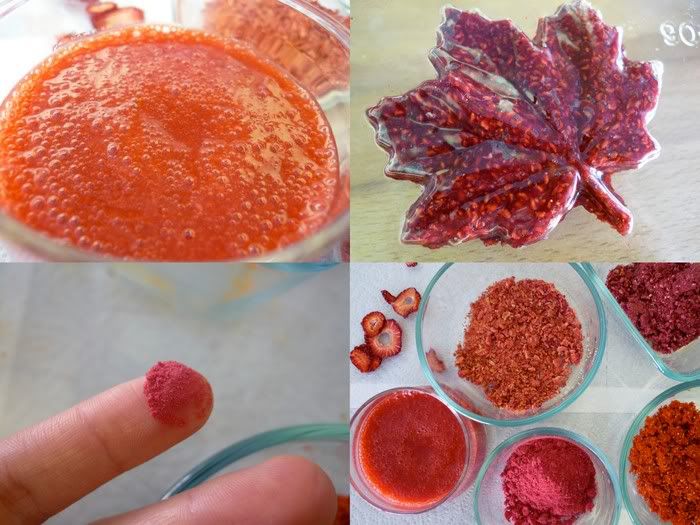 The colour mixes were packed into lightly oiled maple leaf molds and left to air dry until no longer sticky. After some quick freezer time, the bars were ready to be removed from their molds and put to dry in the dehydrator at 115F.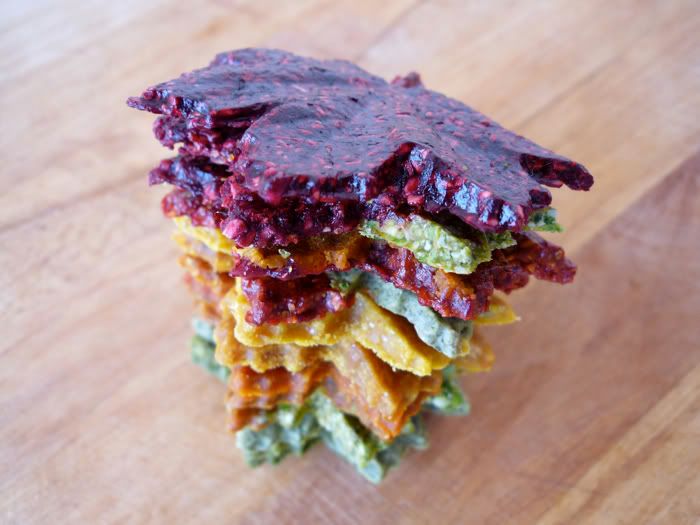 We were able to build many different shades of green, red and yellow. Every bar had its unique structure and colouring.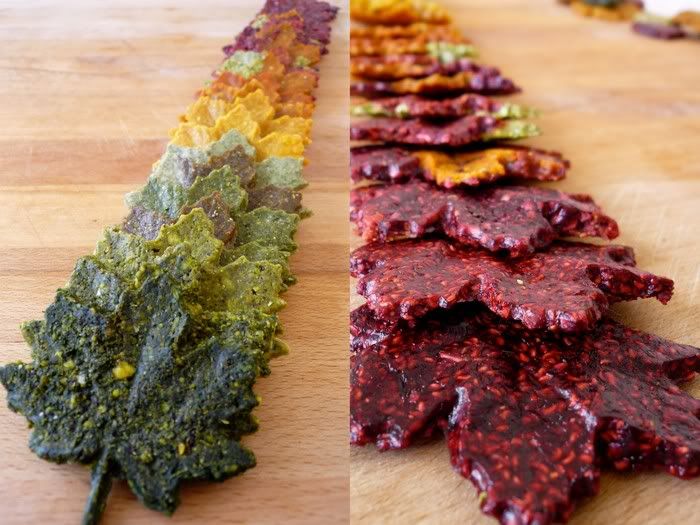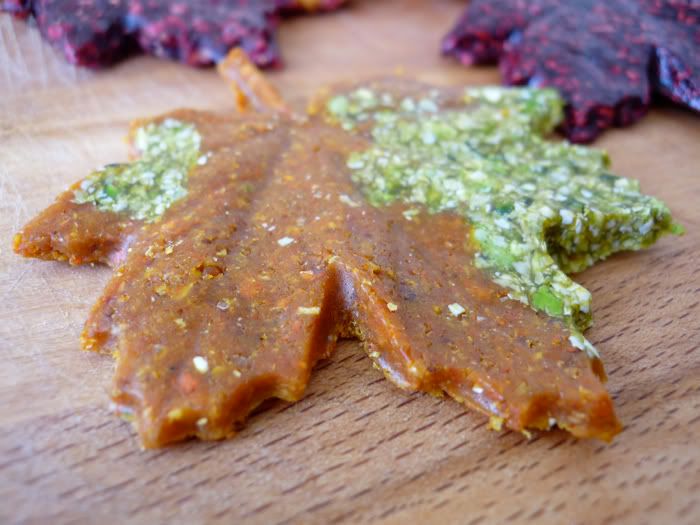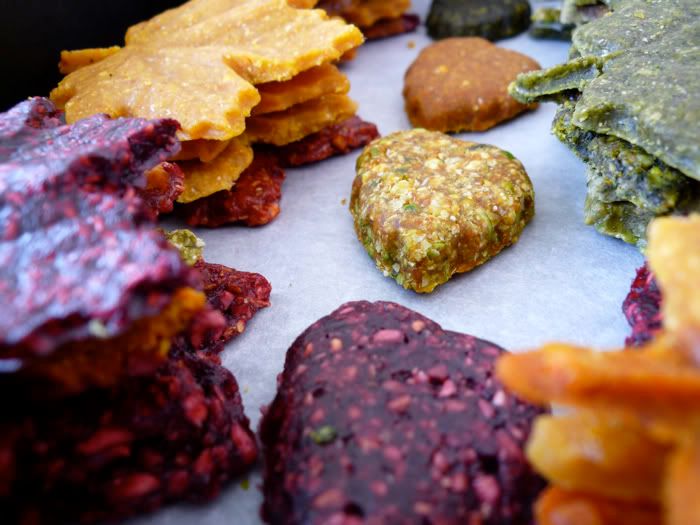 The snack bars hold well in the refrigerator, in an air tight container.
Paloma liked looking at the bars almost as much as hungrily consuming them. Her favourite was one made entirely out of goji berries and berry puree, as she is a complete goji fiend. M preferred the green leafs, while A could not pick any one colour over the other.
With these snack bars, the possibilities for ingredients, hues, and shapes are endless. This project presents a perfect opportunity for making healthy and playful snacks with your children, while teaching them about colour, shape, and flavour.
Post by: A