Take the classic ensemble of chocolate, nut butter, and fruit. The three ingredients have provided generations with the most harmonious and hearty sandwiches. We decided to wrap them like a present.
The wrap is a delicate coconut-mango "paper" with embedded dried edible flowers.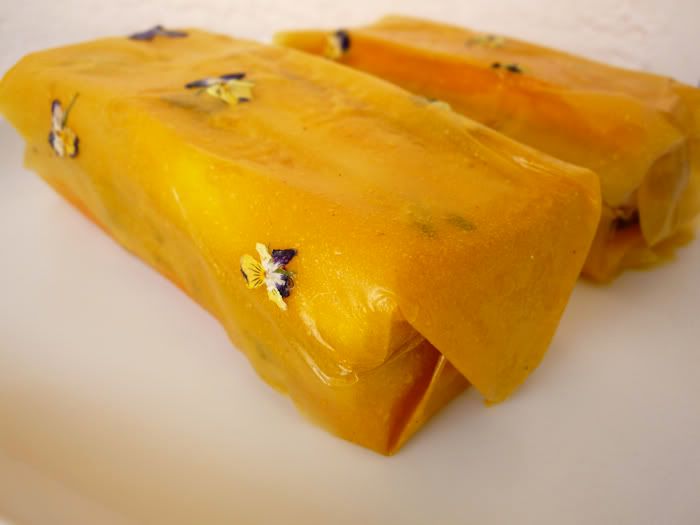 Cut it in half, and inside is where the surprise awaits.
Even layers of papaya, almond butter, chocolate, and banana.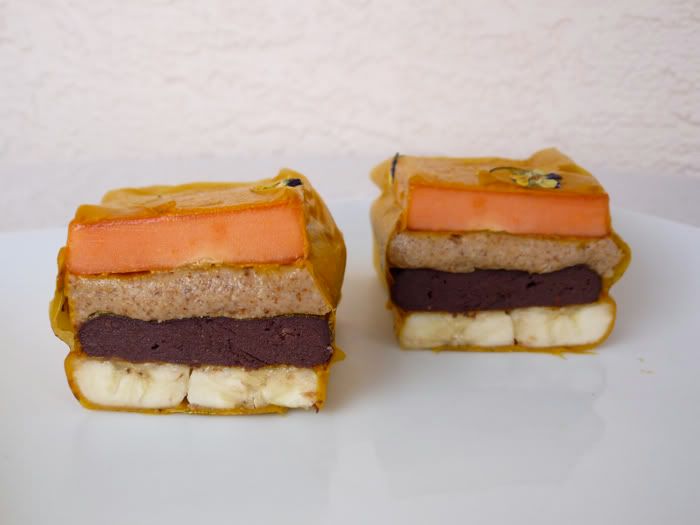 Asking to be bitten into, like any delicious sandwich.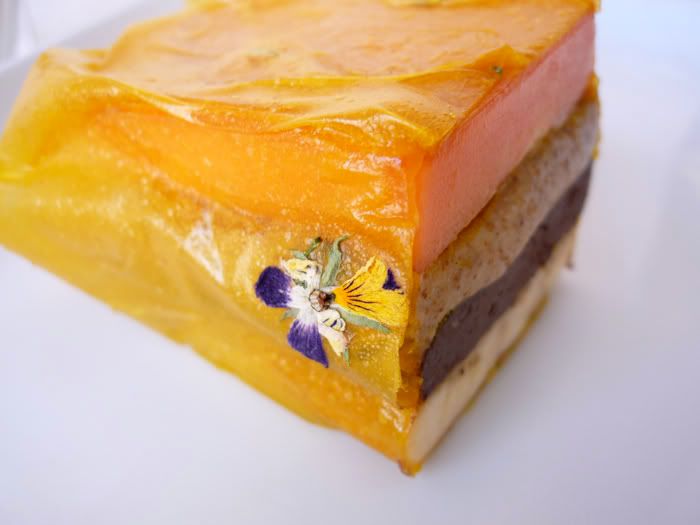 Next, we decided to try a different styling approach. The papaya wrap below is more resilient and allowed for more experimentation. Further taking the idea of wrapping, we explored Japanese rolling techniques to create a variety of dessert rolls.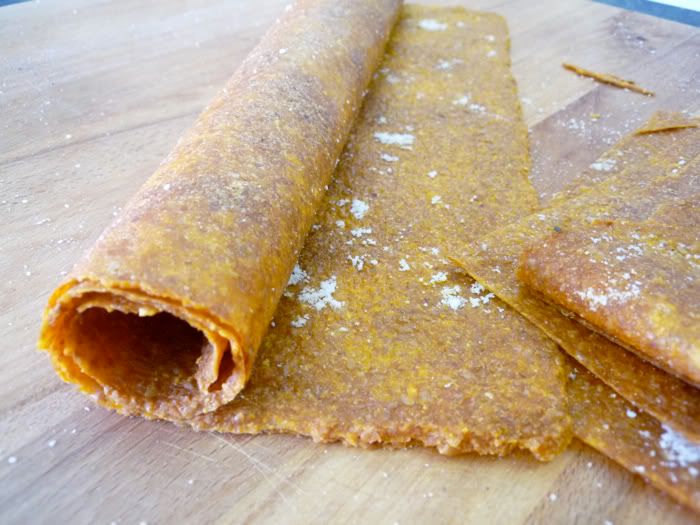 Four Seas Framed Roll: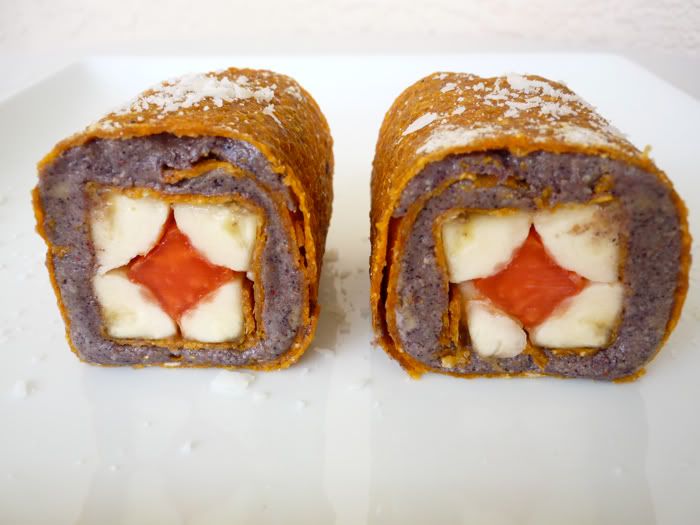 Double-Line Crest:
Four Seas II:
This is an unfailing combination. Needless to say, we enjoyed the rolls very much.
Coconut Mango Wrap
2 cups young coconut meat
1 cup coconut water
1/2 mango
edible flowers (optional) - pressed and dried for 2 weeks
In a high speed blender, combine all the ingredients until smooth. Spread on Teflex sheets as thickly as possible and carefully lay the flowers in desired places. Dehydrate at 115F for 2-4 hours or until dry. Flip and carefully peel away the Teflex and dehydrate for another 30 minutes or until dry. This wrap is very delicate and much harder to manage than the papaya wrap, which we recommend for this project.
Papaya Wrap
1 small papaya - peeled and seeded
1/3 cup sunflower seeds - ground
2 tablespoons raw honey
1/4 cup coconut oil
2 cups flax seeds - ground
Pulse the papaya in a food processor several times. Add the sunflower seeds, honey, and coconut oil, blend until smooth. Add the flax seeds and blend to combine thoroughly. Spread the mixture on Teflex sheets and dehydrate at 115F for 6-8 hours. Flip, remove the Teflex, and dehydrate on the screen only for about 2 hours, or until dry yet pliable.
You can use any combination of your favourite fruits and seeds to make a wrap, as long as you include the flax seeds (they hold the wrap together).
Chocolate layer
(Adapted from
The Raw 50
)
1 cup raw cacao powder
1 cup raw agave syrup
1 cup raw carob powder
3/4 cup coconut oil
1 tablespoon raw sesame seeds
1/2 cup almonds - soaked in purified water overnight
1 cup cashews - soaked in water for 2 hours
1 cup purified water
In a food processor, blend the cacao, agave, carob, coconut oil, sesame seeds, and almonds until smooth. Leave in the food processor. In a high speed blender, mix the cashews and water until creamy. Pour into the processor with the chocolate mixture and whir until smooth. Chill well.
Almond Butter
In a food processor, grind the desired amount of almonds until creamy.
Assembly
For the assembly, we used four layers: papaya, almond butter, chocolate, and banana. We referred to the
Encyclopedia of Sushi Rolls
to create a variety of dessert rolls, using the Double-Line Crest and Four Seas rolling techniques. After wrapping and before cutting the rolls, put them in the freezer for around 30 minutes so that the layers won't become smudged. Cut with a well-sharpened knife. Garnish with coconut flakes. The rolls keep well frozen - just thaw for a short time and enjoy.