We've finally gathered up the courage to buy an
ice cream maker
. Very quickly, this smooth white friend became a favourite kitchen gadget, deserving of the best and most central counter space. For its first run, we went with a simple
mango sorbet with a pinch of chili
. After placing the blended mango, honey, and spice into the freezer bowl and pushing the
on
button, we set the timer for twenty minutes. Fifteen minutes later, impatient, curious, and skeptical, we decided to lift the towel from the opening and take a peek inside. Each of us saw the other's eyes light up - the mixture had gotten
thick
.
There are two different basil bushes growing in our porch garden, and both have been doing well lately. Considering this rare abundance and our love of unusual flavours, we saw a perfect ice-cream-making opportunity. Next came the lemon pairing idea, which was finalized with the fresh raspberry sauce. The result is a barely green, lemon and herb speckled scoop - subtle, smooth, and not in the least bit boring.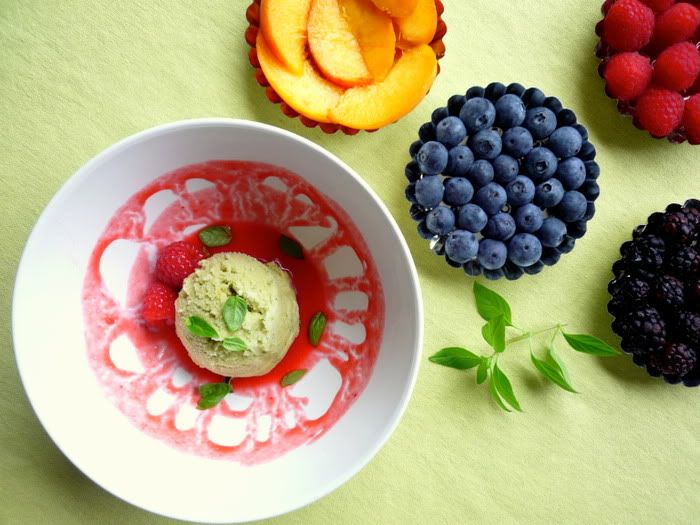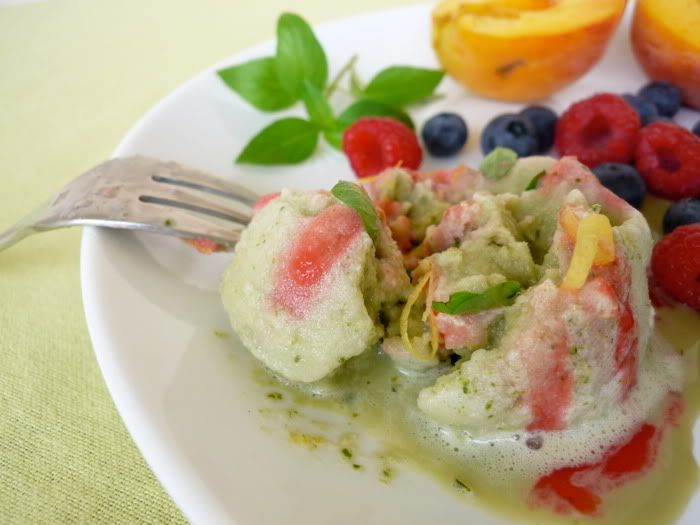 Basil Ice Cream
1 cup raw cashews
2 cups purified water
8-10 pitted dates or 8 tablespoons agave syrup
1 1/2 cups loosely packed basil leaves
juice and zest of 1 lemon
Raspberry Sauce
- was made the same way as in our
Napoleons
In a high speed blender, mix all ingredients until smooth. Chill and put in an ice cream maker for 20 minutes, or however long your brand of ice cream machine suggests. Garnish with raspberry sauce, fresh raspberries and basil leaves.
P.S. Take a look at our new
Recipe Index
and
About
section.