Tired because of jet lag and the overwhelming amount of memories I carried away from Europe, I wanted to make a cake that is unfussy in preparation, but still elegant and tasty.
My choice fell on pudding cake, a simple dessert perfect for afternoon tea.
The pudding cake is light, nutritious, with subtle hints of matcha, ideal for green-tea ice cream lovers. Alternatively, the pudding can be easily eaten for breakfast.
The birthday girl was happy with the cake, and the guests seemed to enjoy it as well. All good fun, the best possible way to fight jet lag.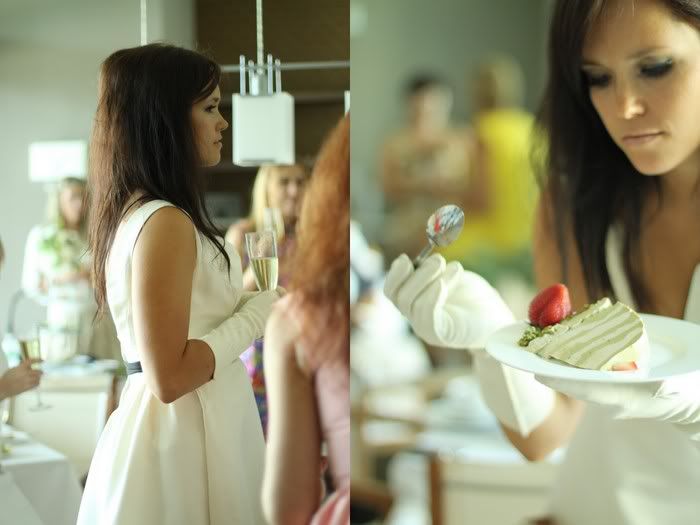 Striped Tea Time Pudding Cake
This amount is for a dome mold 8 1/2" in diameter and about 5" deep (we used a regular mixing bowl)
Pudding
4 1/2 cups macadamia nuts - preferably soaked and dehydrated
4 1/2 tablespoons coconut butter
6 grams or about 3/4 cup Irish moss - soaked in hot water for 10 or more minutes and drained
3/4 cup raw agave syrup or more if you like sweeter

1 1/4 cup sliced banana
3 teaspoons vanilla extract
1 1/2 vanilla bean - seeds
matcha powder - to taste
Crust
about 1 1/2 cup raw pistachios
1/2 cup dried coconut flakes - untoasted
1 teaspoon matcha powder - optional
2 tablespoons raw agave syrup or more until sticky
In a food processor, blend the macadamia nuts and coconut butter until smooth.
Place the macadamia mixture into a high-speed blender and combine with the rest of the ingredients, except the matcha powder.
Divide the mixture in half. Leave one half white. Add matcha to the other half and combine in a blender to achieve the desired colour and taste. Take care to add the matcha in small portions, as it's very strong in colouring and taste. A little matcha goes a long way.
For the crust, combine all the ingredients in a food processor.
Pour the two mixtures into your mold, alternating between green and white to achieve the stripes. Refrigerate for a few hours or overnight.
If you are using the type of cake mold, which you'll have to flip (like we did here), distribute the crust onto the bottom after refrigeration and before flipping. If you are using a springform pan, which requires no flipping, form the crust first, pour the mixture over it, and then refrigerate. When set, the pudding should slide right out of the form. Optionally, garnish with fresh berries and ground pistachios.