We are so excited to finally share this post with you. It has been long in the making, a big dream of ours.
For a while now, my friend
Natalie
and I have been talking and fantasizing about hosting small gatherings, marrying her expertise in decor, my obsession with cooking, and our general love for entertaining. And recently, we did a test run of 3D - Dinner, Decor, Delight.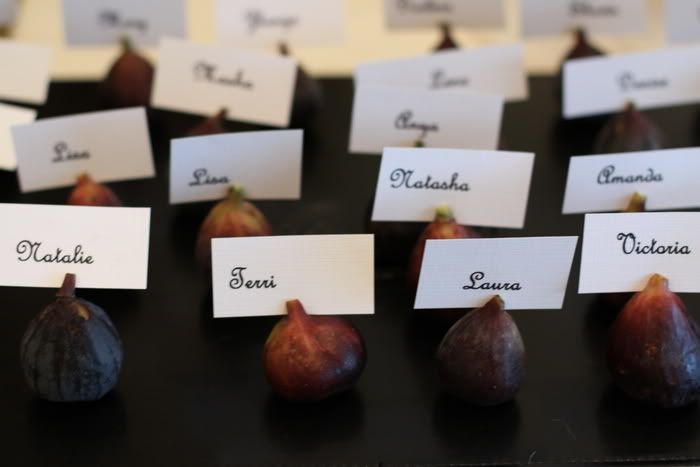 We wanted our guests to have an experience, something more dimensional than just sitting down for a meal, hence the 3D title. We came up with the idea of an
interactive dining experience
, where the guests would be involved in the process of preparing a nourishing and delicious meal for themselves, which would then be enjoyed at a sit down dinner.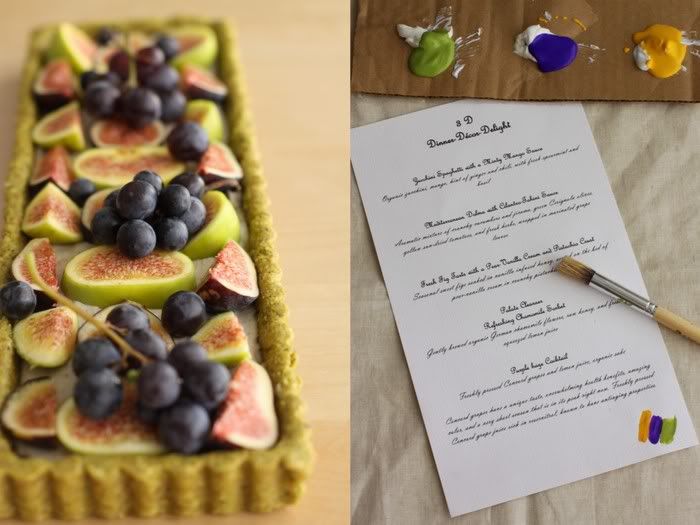 To further the 3D concept and tell a visual story, we decided to only use
three colours
in both decor and food. The colours will always be dictated by nature and seasonality. This time, in early fall, it was green, yellow, and purple. The green came from Calimyrna figs, zucchini, and herbs, yellow - from pears, mango, and chamomile, and purple - from Concord grapes, purple sprouts, and Mission figs.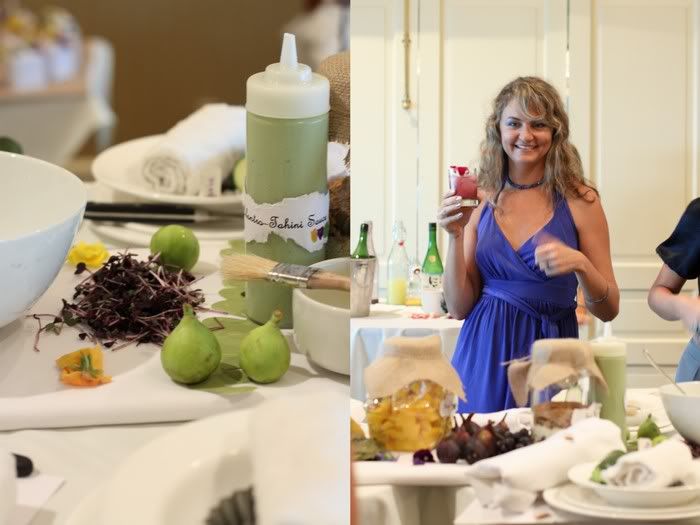 The narrowing down of colours took a bit of thinking and we had lots of fun brainstorming. The whole experience made us think of early masters, like Vermeer, who had to mix their colours with materials that came from nature. That's when we decided on three brushstrokes as our main logo.
This first time around, we invited twenty friends to the
Tampa Club
, where we were given a beautiful space overlooking the whole city. We are endlessly thankful to the club and especially private events director Sandra for providing us with such an amazing venue.
We had two photographers at the event - yours truly and Ziggy Meilus. Ziggy is a visionary, there are not many things he cannot do. Photo, video, music, you name it. We are very lucky to have him on our team.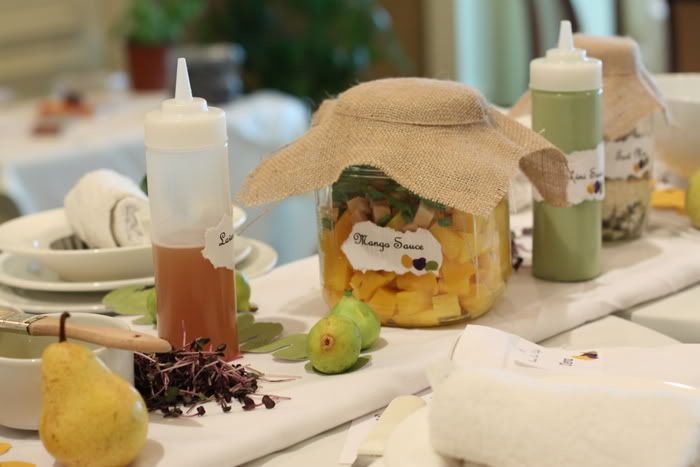 We wanted to welcome our guests with tasty cocktails, but also aimed to keep them as healthy as possible. We served a purple concoction of freshly squeezed Concord grape juice (all squeezed with love the night before) and organic sake. The drink was light, but also did its job well and overall was quite popular with the crowd.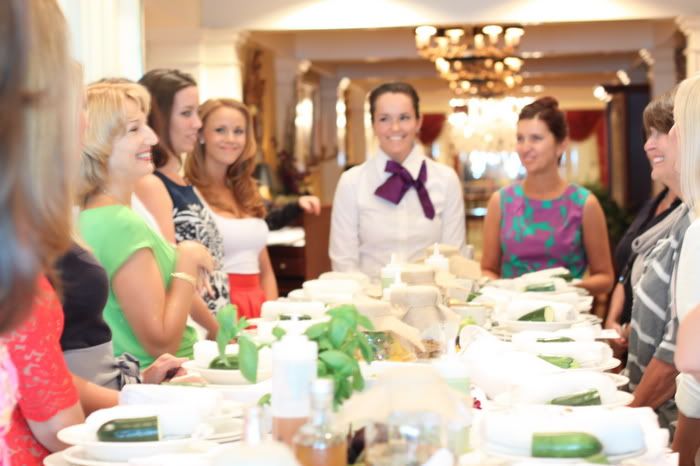 After the cocktails were served, we got down to cooking. Everyone had their own station at our long working table, equipped with a white apron and cooking equipment. We did some preparation of ingredients ahead of time, things like dicing and portioning, all in the interest of saving time. But our guests did most of the work, while we guided them.
The menu consisted of three courses and a palate cleanser. The first course was zucchini spaghetti with a minty mango sauce, topped with beautiful purple sprouts. Then we had a palate cleanser of chamomile sorbet. I've had this one up my sleeve for a while now and it's about time to share it, it's so good! Look for the recipe at the bottom of the post. The third course was our favourite
dolma
. And for dessert - mini tarts made of a pistachio crust, filled with a pear vanilla creme, and topped with fresh figs and lavender-infused honey.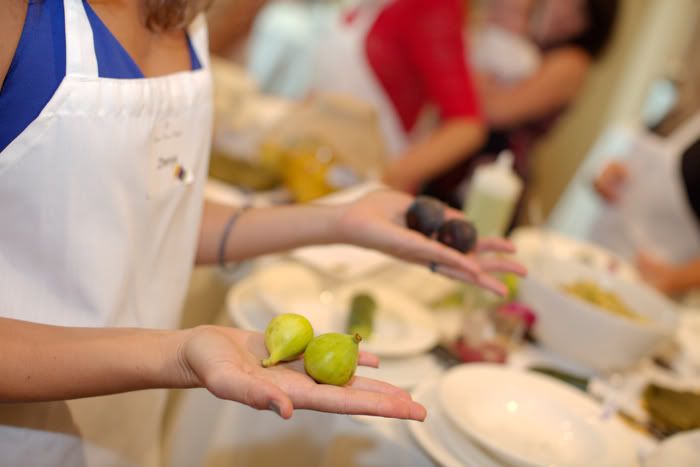 We also had small party favours, which consisted of raw chocolate candies and a recipe card.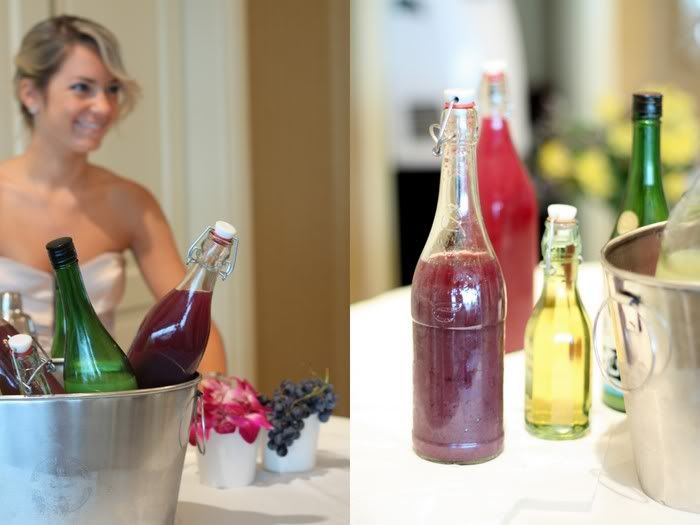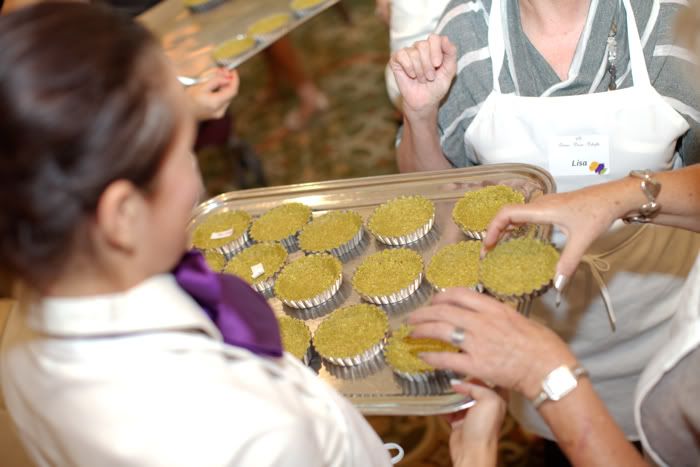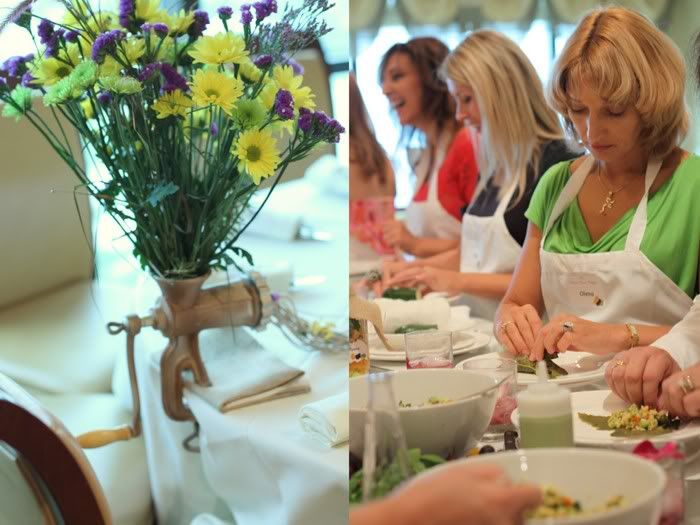 Natalie did a beautiful job on the decor, down to the smallest details. The main pieces on the tables were vintage meat grinders, which acted as symbolic vases and told the story of transformation of one form of nature into another life form, without the altering of natural qualities. They also signified a hands on experience.
Natalie intended for a sort of style clash to happen, where the rustic elements would be juxtaposed with more minimal and modern ones, like the Voss water bottles and simple white tableware.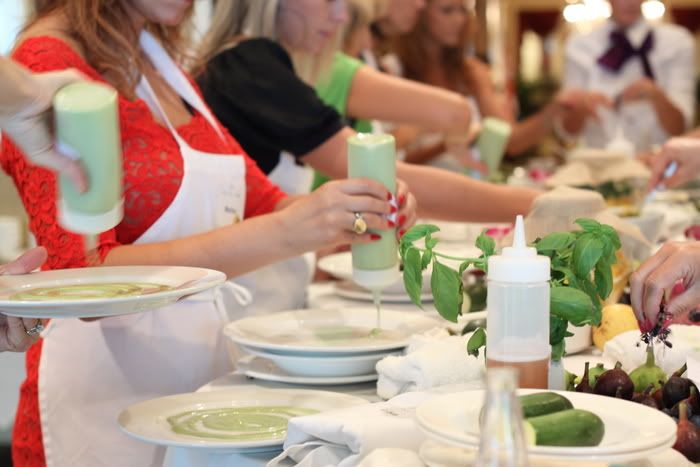 We found this to be a very rewarding experience. We loved the whole process from brainstorming to organizing, from cooking together to handing out party favours at the end of the dinner.
We would love to repeat this experience, to grow from it, and to let it grow into something regular and positive.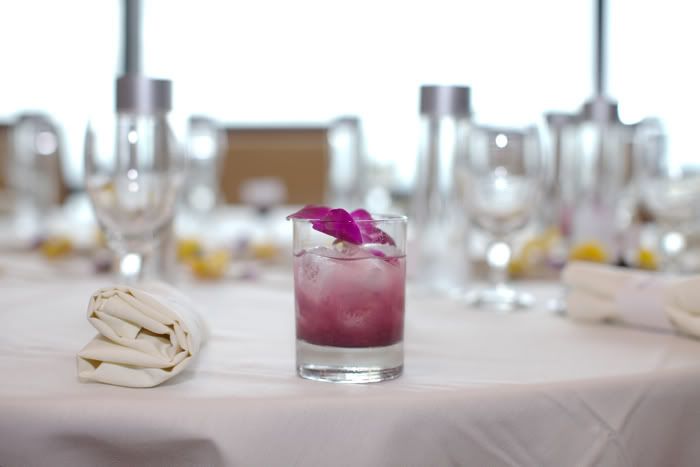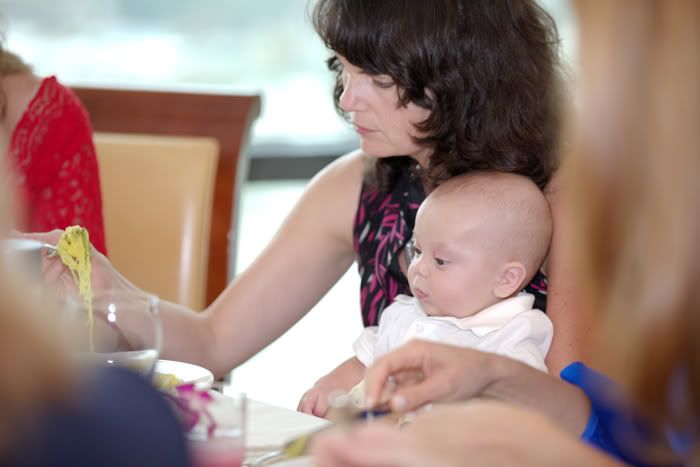 We are open to any comments, suggestions and collaborations. Thank you for reading.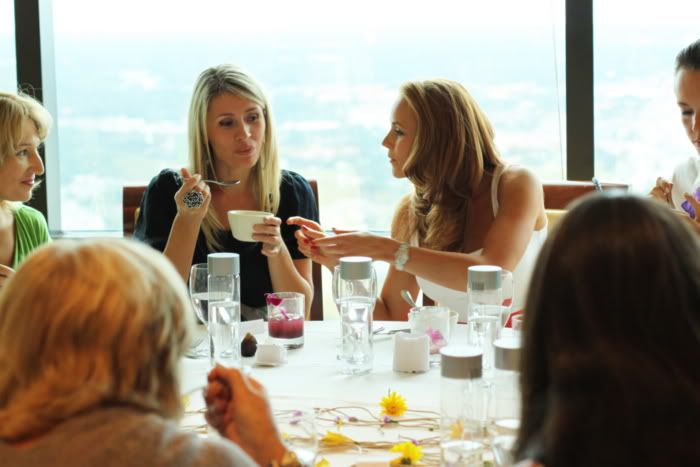 Fig Tarts with a Pear-Vanilla Cream and Pistachio Crust
(makes about six 3.5" tarts)
Pistachios Crust
1 cup raw pistachio nuts
1/2 cup unsweetened coconut flakes
1/2 cup golden raisins
1/4 cup golden flax seeds
In a high-speed blender, mix all the ingredients until well combined and until the mixture sticks together when pressed with fingers. You can do it in a food processor as well, but pre-grind your flax seeds in this case. Do not blend the ingredients too much to avoid them becoming too oily.
Place a generous 1/3 cup of the mixture in each tart shell with a removable bottom and press evenly against the bottom and sides of the shell. Place your tarts in the freezer for about an hour before serving, this will make the removing process much smoother.
Pear-Vanilla Cream
1 cup raw cashews
1-2 ripe pears
2-4 tablespoons purified water
1 teaspoon vanilla paste or seeds from 1/2 vanilla bean
Blend all the ingredients in a high-speed blender until smooth and creamy. Refrigerate until ready to use.
Lavender Infused Honey
(optional)
1 cup raw liquid honey
1/4 cup dry organic lavender flowers
Mix honey and lavender together in a jar. Cover with a lid and leave to infuse for around 3 weeks. Stir 1-2 times a day, or just flip the jar over, making sure that the lid is sealed. Strain honey through a fine mesh screen.
Assembly
Slice figs in any way you like.
Take your tart pans from the freezer and carefully remove the crust from the pan, starting with pressing gently on the removable bottom. Fill the crust with the pear-vanilla cream, arrange figs on top, in layers if you like. Optionally, drizzle with lavender or plain honey. Garnish wtih some concord grapes and/or edible flowers if you like.
Chamomile Sorbet
4 cups purified water
1/4 cup dry organic chamomile flowers
juice of 1 lemon
1 cup raw honey
1/2 cup light agave syrup
Steep chamomile flowers in very hot water for about 30 minutes. Strain the flowers, mix in the rest of the ingredients and chill well. Process through ice-cream machine according to its manufacturer's instructions. Freeze for at least 2 hours before serving.