Whenever I feel especially happy, I often reflect on how fortunate I am to have wonderful friends. They all are different, unique, and largely responsible for who I am. Today I'd like to talk about Zhenya, the one who inspired this gathering.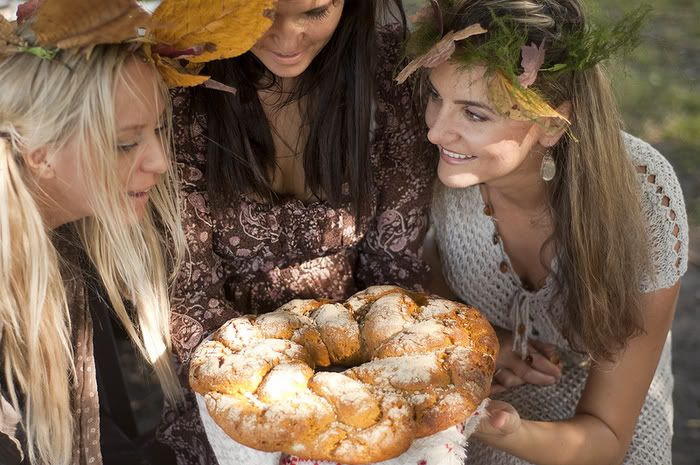 Zhenya is incredibly down to Earth, honest, and very generous. She comes from the Altai area of Siberia, where these personal traits are innate in the region's tradition. She has a rare talent of being a true friend to a wide variety of people and always brings together a very diverse crowd. When Natalie and I began to prepare Zhenya's birthday party, we had no question about what it should be centered around.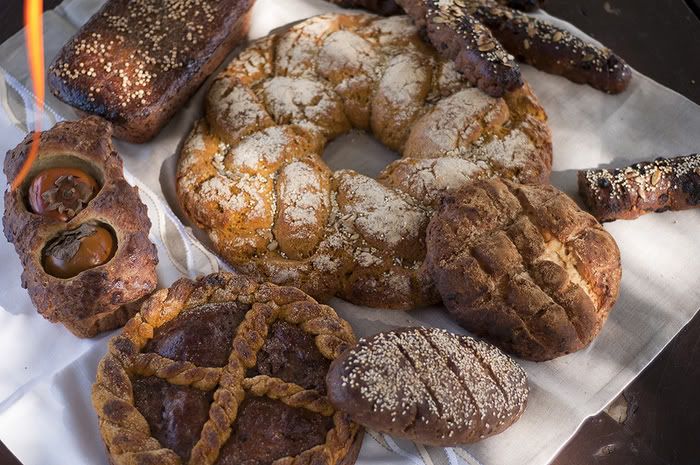 As far back as we can both remember, we were taught to cherish every slice of bread placed in front of us. We were brought up to see bread as a symbol of survival for millions and as a product of hard, meticulous work of many people. Our generation grew up with a strong belief that bread is the
Head of Everything
. That and other similar folklore never allowed us to throw away a left over piece of bread. It is sentimental and goes deep into the history, culture, and roots of our people.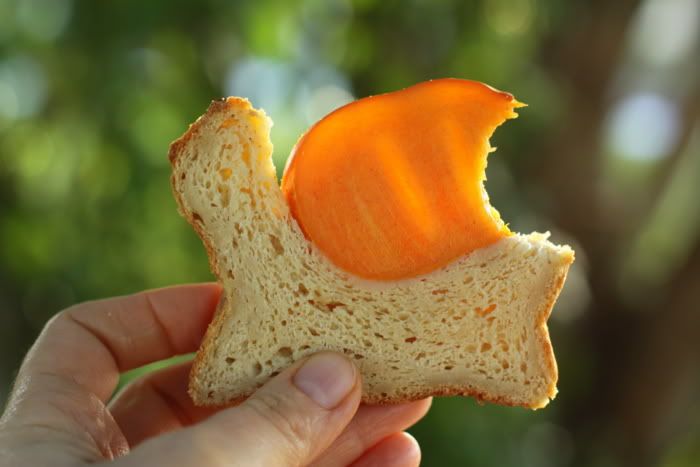 But we're certainly not alone. Bread is a staple in so many cultures, the most basic of all foods, yet made with different ingredients throughout the world and complex in its own right.
Stepping away from the subject for a bit, I have to share one more story in order to complete the picture. Recently, we visited
Art Basel in Miami
, where we met
Jennifer Rubell
at her yogurt and honey
Incubation breakfast installation
. Jennifer uses food as her artistic medium, and one of her
installations
back in 2009 was devoted to bread. That amazing concept, which Jennifer calls Reconciliation, inspired us to build on the subject.
As for her yogurt at Art Basel, it was one of the best I ever tasted - homemade with Bulgarian yogurt grains. The whole experience of that breakfast in the garden, with bees flying around the dripping honey, the perfectly white incubation cube, and great conversation with Jennifer herself was a definite highlight of the trip.
Before learning about Jennifer and starting to prepare for Zhenya's birthday, I became interested in finding a way to make bread which is truly healthy by most standards and relatively simple in preparation. Although the dehydrator is my stove most of the time, I couldn't help but notice a large and growing demand for baked gluten-free and vegan bread.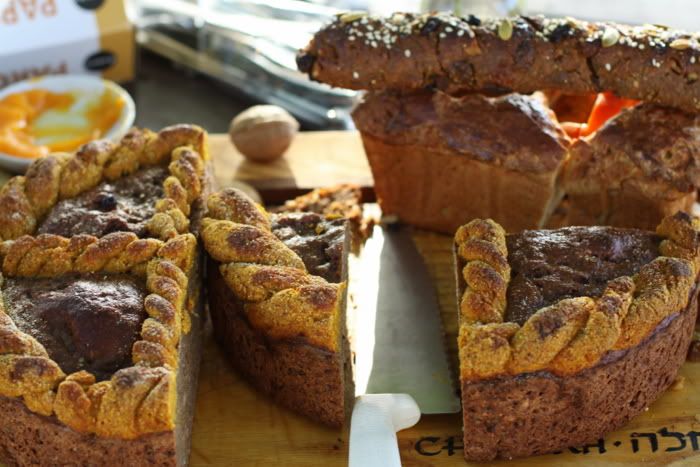 Raw food in general, not to mention raw bread specifically, are not yet common by any means. Health foodies are very much compartmentalized and divided into communities. The gluten-free crowd generally uses eggs, dairy products, and an extensive list of ingredients in their breads, while vegans often don't mind wheat and yeast. Meanwhile, ingredients like Irish moss are still unfamiliar to most, and there is a general belief that it belongs to the raw food world exclusively. I'm not a big fan of such divisions, and always try to promote food that can suit everyone, no matter their dietary needs and preferences.
My curiosity has lead me to start experimenting with bread, that doesn't have any gluten, yeast, eggs, dairy, starches, baking soda, gum, but instead some sprouted goodies and a seaweed base. I've made this type of bread raw before, but this time decided to take the same approach to a baked bread, in order to make it appealing to everyone. It turned out amazingly on the first try, and I am very excited to share this recipe today.
For Zhenya's birthday party, I baked many varieties of bread - all gluten-free and vegan.
As we always do when working on
3D events
, we worked with three seasonal colours. Brown and creme represented shades of bread, while winter squashes and persimmons gave us that autumn orange, which added a vibrant stroke to our palate.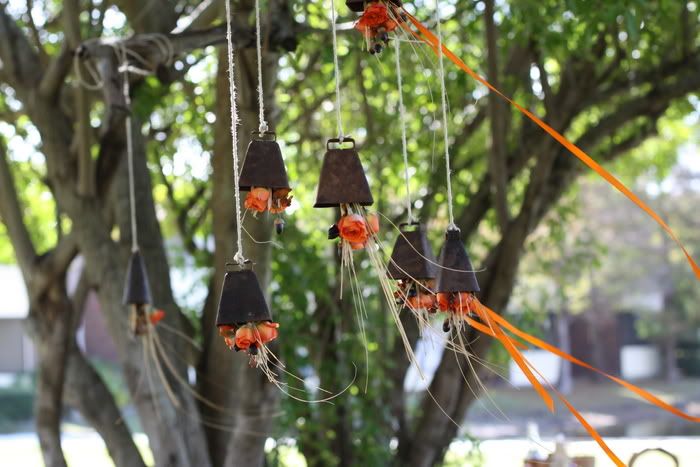 Natalie spotted this beautiful field by the pond with shady trees and wooden tables that framed our story perfectly. She used vintage American cow bells with little bouquets and ribbons inside, hanging down from the tree branches. The light wind made the ribbons dance around and fly over the tables, and the guests looked beautiful in their leafy crowns.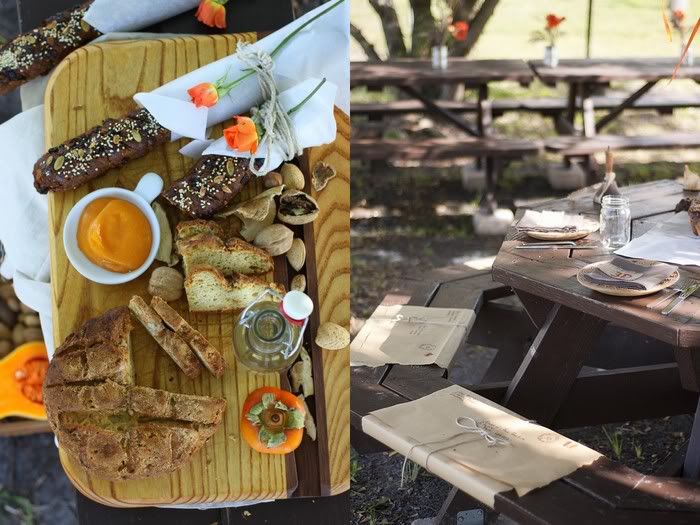 The birthday girl found a descriptive nick-name for every guest. Natalie used them when converting every guest's seat into a postal parcel, which worked as a placement card and a fun guessing game as well. Our 3D logo, as well as three signature brush strokes, worked in place of postal stamps.
Those seats reminded us that although we all came from different parts of the world, we gathered to bring parcels of love to Zhenya.
The shapes and flavours of each bread represented different cultures or regions.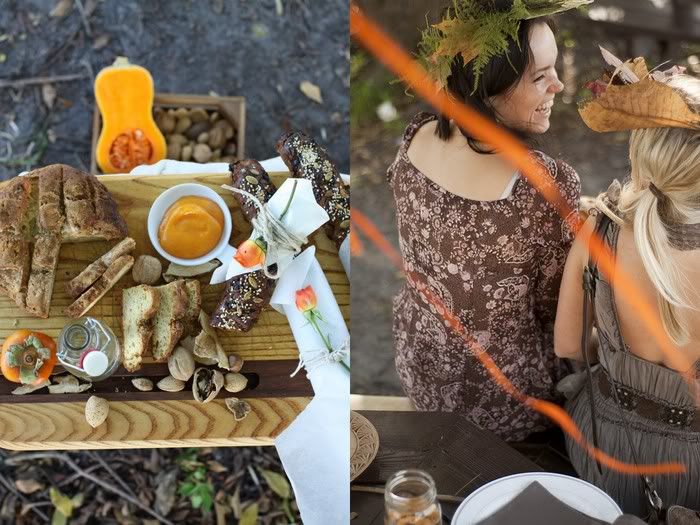 A round, crossed bread is served in Serbia for Slava, the holiday that celebrates Family.
The braided caraway was traditionally used in Russia to greet guests or newlyweds, and is also a variety of Jewish challah bread.
The baguettes were made of banana, walnut, and raisin bread, utilizing the beloved French shape, and the flavours that are so loved here in the States.
The small, simple loaves were a reference to a rye Lithuanian bread. I used cocoa, coriander, and caraway seeds to imitate the colour and flavour of that traditional bread.
The rest included garlic, caramelized onion, and persimmon loaves, in shapes that reminded us of childhood comforts.
We served bread with our
almond cheese
, and raw persimmon-apricot jam. Other friends brought all kinds of tasty goodies like pumpkin soup and pesto. Zhenya herself made several dishes from Golubka.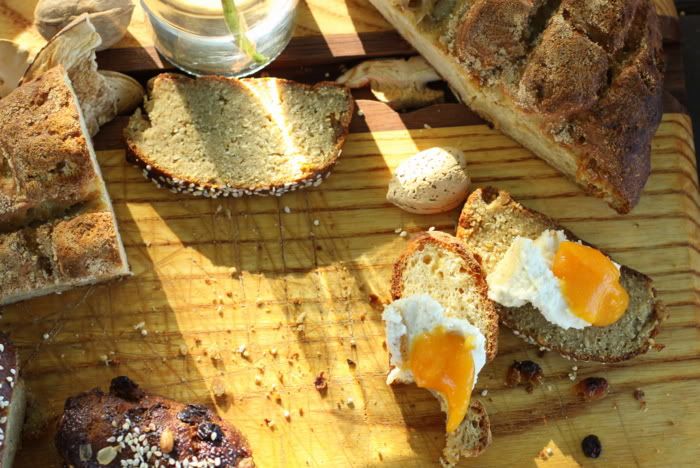 As for the bread, the banana and nut kind won the popular vote.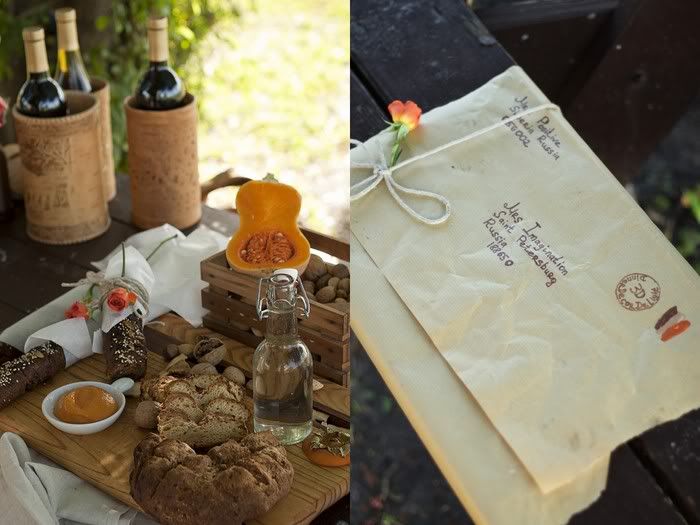 I don't know about you, dear reader, but I felt in love with that day, the light and the sun, the smell of freshly baked bread, and with my friend Zhenya - Happy Birthday to you!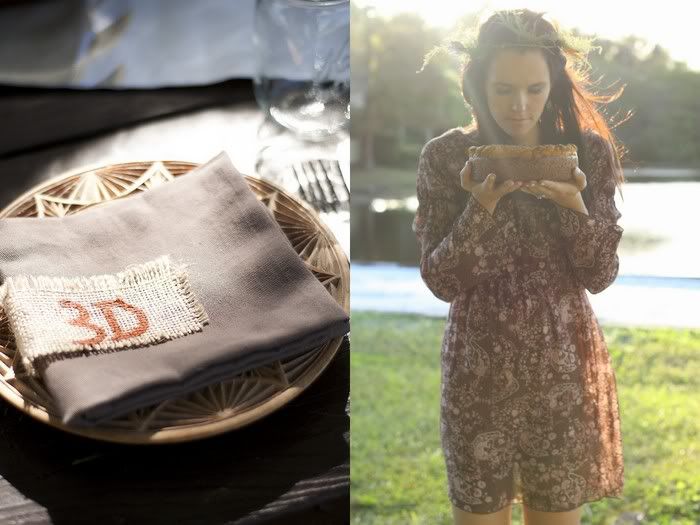 Last, but not least - I was not the only photographer at this gathering, young and talented
Anastasia M.
helped us out very much by capturing some beautiful moments. Thank you, Anastasia!
Our official charity 3D event for Jamie Oliver's Food Revolution will take place around Valentine's Day. It will be held for couples and inspired by Argentinian Tango. The theme is broad and complex, and so is our menu. We decided to devote several posts to the event, as we develop our dishes and concept prior to the actual gathering. We're planning to start right after Christmas, so stay tuned.
Basic Bread
1 cup mixture of raw oats, quinoa, buckwheat, amaranth, millet - preferably sprouted (or just soaked overnight) and dehydrated. You can use any combination of these, or other gluten-free grains. You can also use just one kind, or even store-bought flours.
1/2 cup golden flax seeds
1 cup sunflower seeds - preferably sprouted and dehydrated
1/2 cup hemp seeds
1 cup psyllium husks - you can find them in bulk at any health food store
11/2 cup purified water
juice of one lemon
1/4 cup
Irish moss gel
1 teaspoon salt
1 tablespoon honey
1/4 cup olive oil
In a high-speed blender, combine the grains and flax seeds, grind into a flour, and pour into a food processor. Next, grind sunflower seeds into a flour in a high-speed blender, at a lower speed, taking care not to turn them into butter. You can also use a coffee grinder and work in batches. Add the sunflower flour to the food processor, followed by hemp seeds and psyllium husks.
Combine water, lemon juice, Irish moss gel, salt and honey in a high-speed blender until smooth. With the motor still running, add olive oil to incorporate. Turn the food processor on, mixing your dry ingredients together, and start slowly pouring the wet mixture into the dry one through the tube. When the mixture becomes completely incorporated, your dough is ready. Make a loaf, or several loaves of the desired shape, spread with honey and sprinkle with seeds. To make sure that your bread bakes evenly, use a pizza stone if you have one, or just place an oven-proof dish with water on the rack underneath your bread. Bake at 350F for 40-60 minutes, or until it looks brown and ready.
Cool down on the wire rack before slicing.
For the
banana-raisin-walnut
bread, add two very ripe bananas, and some extra honey to your wet mixture. Optionally, add cinnamon, nutmeg, and ground ginger to taste. When wet and dry mixtures are well combined, transfer your dough into a bowl, add chopped walnuts and raisins to taste. Form into a loaf and bake.
For the
onion-garlic bread
, add some onion powder and garlic chips into a food processor along with the rest of the ingredients.
For the
caramelized onion bread
, use
this recipe
to make caramelized onions, and add them to the basic dough before baking.