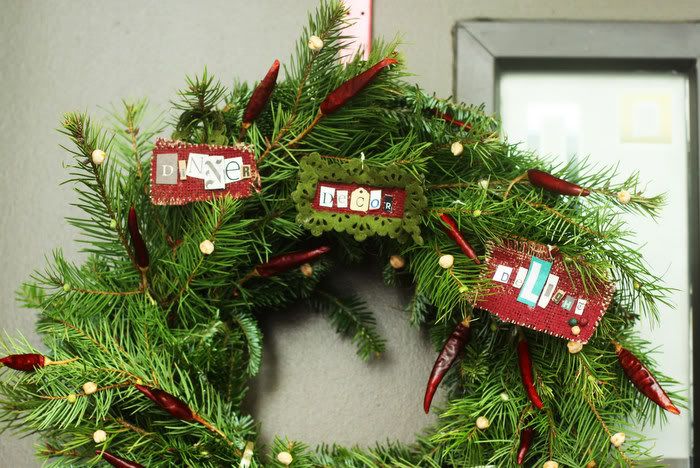 We thought we'd share our holiday celebration in
3D
style.
This time our gathering was all word and expression-based, and our three colours were pine green, burgundy, and creme.
Caramel fudge, plus a few nuts
Natalie wanted to consider the fact that we had friends and family from different corners of the world come together to celebrate on this one day. Think of John Lennon's song
Imagine
. Everyone has their busy life and agenda, but the beauty of the holidays is in having some extra time to be still and catch up.
That's where the words and sayings came in. Every word was made up of different everyday elements, whether food or letters from the logos of familiar companies. These elements were coming together to compose words, while all of us gathered to make up a warm and heartfelt party.
Sasha enjoying the edible tree decorations
Our tree, besides being adorned in positive messages, was decorated with edible ornaments. Nuts, peppers, apples, pears, and dried cherry embroideries. I cannot begin to tell you how much the kids enjoyed that idea. They spent the whole evening picking treats off the tree and eating them with enthusiasm.
"You're my whole world"
And food, of course, brings everyone together, encourages good conversation, makes everyone at the table into one whole. A dish is composed of ingredients, that come together harmoniously. In a good company, the people are the ingredients.
We want to tell you about three holiday dishes we enjoyed.
The first was a salad of kale, avocado, and pomegranate. It is entirely festive in appearance, really simple in making, and very tasty.
The tart was wild mushroom and herb, with almond creme, sage, and rosemary. The mushrooms we used included chanterelle, shiitake, crimini, king oyster, and brown beach. They were marinated in a mix of different citrus, which made them extremely delicious.
Spelling with sage on the tart, "Earthy" because it's exactly what it is.
"Earthy"

For dessert, caramel fudge. The saying "Family is like fudge, mostly sweet with a few nuts" came first, then came the fudge. We thought it would be fun to take this very literal approach to both the expression and the dish.
It's dessert with a sense of humor.
2012 tart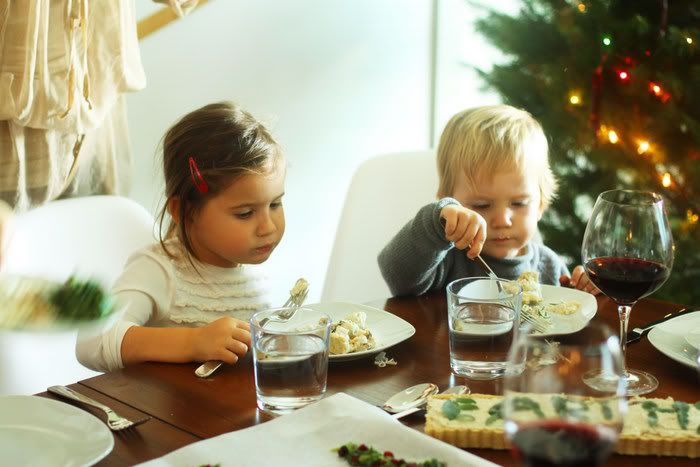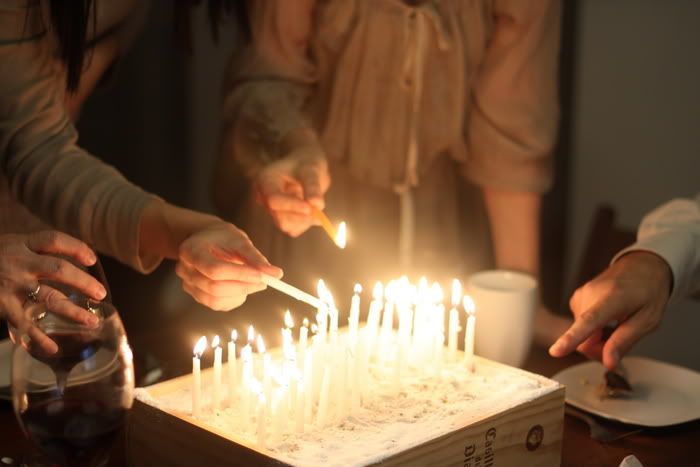 At our dining table, we had this centerpiece, which was about all negativity melting away before the new year.
The word "feud" was spelled out in ice and suspended over candles, which spelled "hope."
The hope melted away any and all feuds.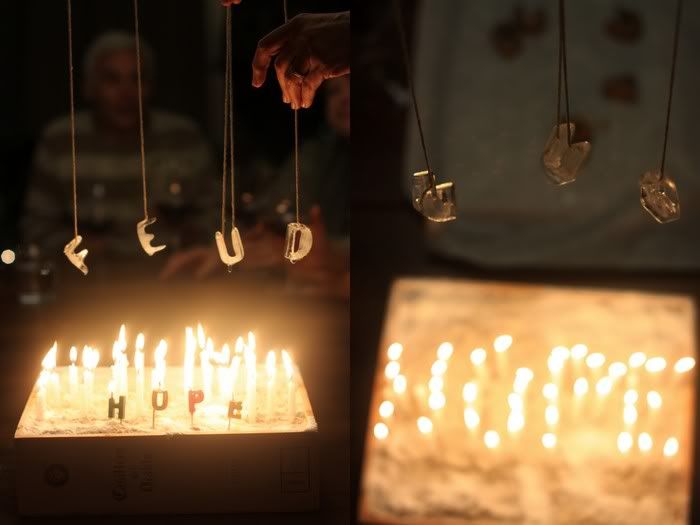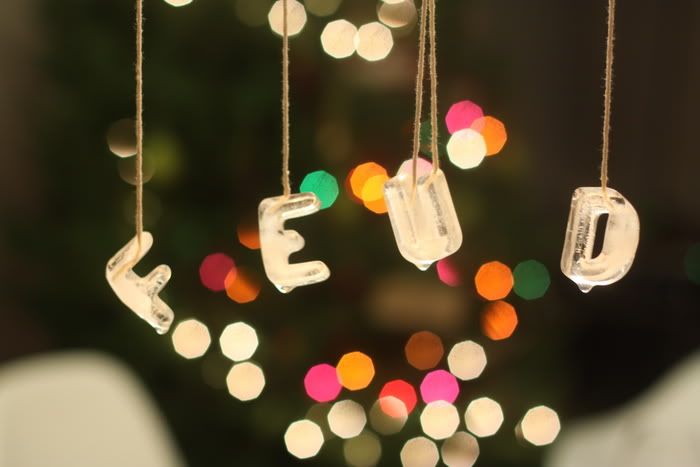 Happy, healthy holidays and a happy new year to you. Thanks so much for reading in 2011, we can't wait to see you in 2012.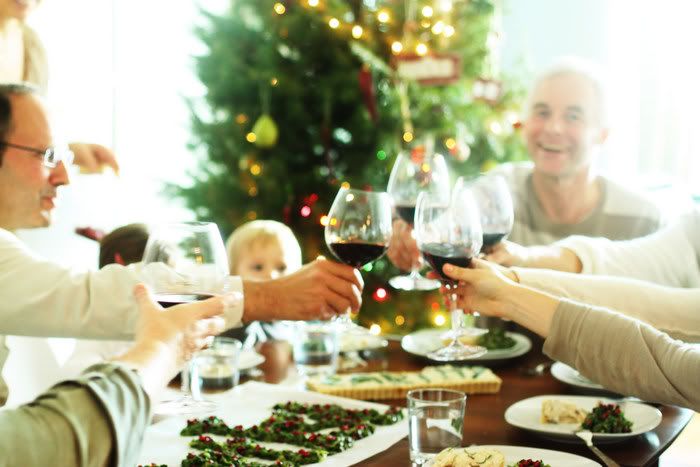 Hope all your feuds melt away...
Kale Avocado Salad
1 bunch of kale - stalks removed, sliced into bite-size pieces
1-2 ripe avocados - peeled and pitted
1/4 onion - thinly sliced
juice of one lime or lemon
1/4 cup olive oil
sea salt and freshly ground black pepper - to taste
1/2 pomegranate - kernels
Mix all of the ingredients, except pomegranate, in a large bowl. Massage for 5 minutes or so, until kale is soft and wilted. Mix in the pomegranate and enjoy.
Wild Mushroom and Herb Tart
(Makes about one 9" circular and one 5"x13" rectangular tart)
Crust
2 1/2 cups
almonds - soaked overnight, skin removed for lighter color (optional)

2 tablespoons nutritional yeast
1/2 cup ground golden flax seeds
2-3 tablespoons purified water
Mix all the crust ingredients in a food processor until smooth, adding more water if needed. Press the dough into your tart shells, preferably with removable bottoms. Distribute the dough evenly against the sides and bottom of the shell. Place the tart shell(s) in the dehydrator for 4-5 hours. Gently remove the shell from the mold, and put it back onto a screen-lined dehydrator tray. Dehydrate for another 8-10 hours until completely dry and crispy.



Filling


A mix of different types of mushrooms, we used chanterelle, shiitake, crimini, king oyster, and brown beach mushrooms - cut into smaller pieces if necessary
A few sprigs of rosemary, sage, and thyme - optional
1/2 cup each orange, lime, and lemon juices - freshly squeezed
1/4 cup olive oil
1 tablespoon sea salt
freshly ground black pepper

Mix all marinade ingredients and pour over herbs and mushrooms. Stir to cover and marinate for 1-2 hours at room temperature. Drain.



Caramelized Onion Cream



3 medium onions - sliced thinly
juice of 1 lemon
1 1/2 tablespoons sea salt
1/2 cup brown rice vinegar
1/4 cup raw light agave syrup
1 small red chili pepper - optional
2 cups almonds - soaked overnight, skin removed (optional)
1 cup cashew - soaked for 2 hours
1 clove garlic - coarsely chopped
Cover the onions with warm water and lemon juice for 30 minutes, then drain and rinse thoroughly. Combine salt, vinegar, and syrup. Pour this mixture over the onions and let sit for 30 minutes. Drain, leaving a little liquid, and spread on Teflex-lined dehydrator trays. Dehydrate at 115F for 24 hours or until crispy. Then blend the onions in a high speed blender with 1 1/2 cups of purified water, chili pepper, and a pinch of salt.
In a food processor, pulse the almonds, cashews and garlic with a pinch of salt to achieve tiny granules. In the food processor, add the onion mixture to almonds and cashew and mix until a paste-like consistency is achieved.



Assembly


Spread some of the cream on the bottom of the tart shells. Spoon mushrooms over it. Cover with more cream and garnish with herbs.



Caramel Fudge Two Ways




#1


1 1/2 cup almonds - soaked overnight, skin removed (optional) and dehydrated
1/2 cup coconut flakes
1/2 cup golden raisins
1 tablespoons ground flax seeds
1/4 cup powdered coconut sugar, or maple syrup powder
3 tablespoons almond butter - made of blanched almonds, if lighter colour desired
1/2 tablespoon coconut oil

Mix all of the ingredients in a food processor until sticky. Form into desired shape, keep refrigerated.



#2


1/2 cup cashews - soaked for 4 hours
1/4 cup light agave syrup
1/4 cup lucuma powder
1 teaspoon vanilla extract
1/2 teaspoon lemon juice
pinch of sea salt
1/4 cup coconut oil
2 tablespoon melted cacao butter

Blend all but last two ingredients in a high-speed blender, until smooth. Add oils at the end to incorporate. Transfer mixture into the mold or form into a desired shape and freeze until ready to serve.