This post is also available in: French
Lately, we've been immersed in the work for our
3D gatherings
, which quickly turned into a true passion for both Natalie and I. Each event calls for a great amount of research, concept development, and recipe testing. We've decided to share our process and take you along to see the development, from the initial idea to the final product.
Today, we begin our series of posts that describe the main idea and menu for our
Argentinian tango
inspired gathering, which will be held around
Valentine's Day
for ten lovely couples.
First we will give word to Natalie, our concept designer at 3D, who came up with the tango theme, colour palette, and decor.
"Besides making things look aesthetically pleasing,
it is very important for me to tell a certain story
and to convey a message through various elements of décor.
A couple of years ago, right after my husband and I had our firstborn, we were looking for ways to spend time as a couple. We turned to Argentinian tango classes. I had been mesmerized by the beauty of the dance for many years, but once I understood the actual mechanics of it, I was more intrigued than ever. Those mechanics are the key inspiration for our Valentine's day gathering.
We will be exploring the fundamentals of Argentinean tango, with all of our senses.
"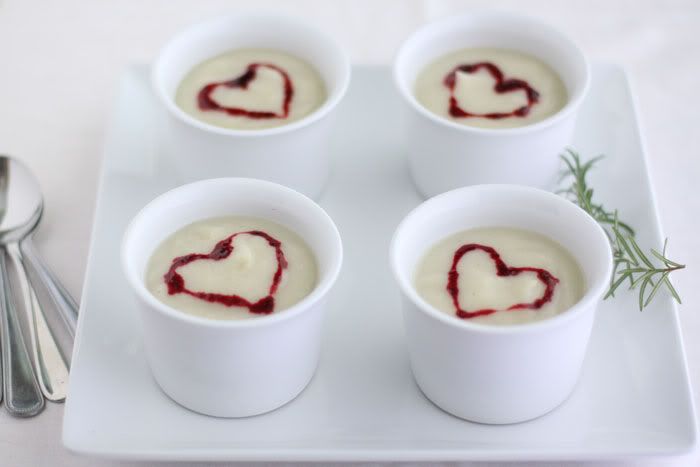 We traditionally work with three seasonal colours at 3D gatherings. For this romantic event, we chose to work with a monochromatic palette in all shades of white, pink, and red.
Nature always dictates our choice of colour, and we work with what we see on market stands. We are very thankful for these colours, as they are quite appropriate for the Valentine's Day occasion.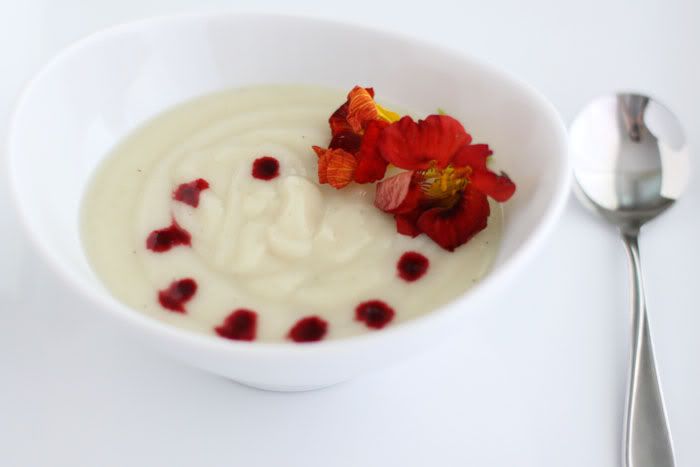 Our first dish is this light, creamy sunchoke soup, dressed up with a vibrant pomegranate reduction. The first time I tasted Jerusalem artichoke (or sunchoke) was when making
dolma
, and it was love at first try. I've been waiting for this beautiful root to come back in season in order to try this dish. The soup is wonderfully smooth, mild, and comforting, with subtle aromas of rosemary and mate. The fresh pomegranate reduction brings a very bright note of sweetness to the calm and earthy flavours of the soup.
Yerba mate was used to infuse this soup, as one of the most celebrated flavours of Argentina. I've always loved the energizing taste of mate tea, together with the fact that it contains no regular caffeine.
Victoria and Federico
, amazing professional dancers and Natalie's tango instructors, told us a bit about the mate tradition. It is customary to drink Yerba mate from a gourd (dry squash shell), through the bombilla (tea sipper). The gourd must be cured first, in order to seal all the pores and remove any vegetable flesh still present. To do that, one must brew mate in the gourd for 24 hours, empty it, and scrape the inside walls, repeating the process once more. The water for brewing mate should be around 180F, never boiling. The cebador (host) usually takes the first gourd full, after which more water is added and the gourd is passed to the guests. Victoria and Federico compared it with the passing around of the peace pipe, and establishing a connection with your guests.
Thank you for reading and stay tuned for part II of our 3D Valentine's event development, coming up next week.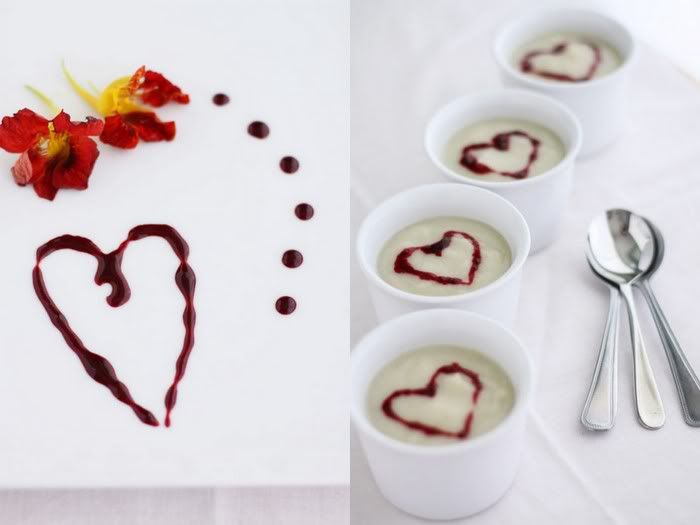 Yerba Mate Infused Sunchoke Soup
(adapted from
GKS
)
2 lbs Jerusalem artichoke/sunchoke
1 leek (white part only, if you want to keep the soup white in colour) - chopped
3 cloves garlic - chopped
olive oil
juice of 1 lemon
2 sprigs fresh rosemary
salt and pepper - to taste

6 cups steeped Yerba mate tea
Scrape the sunchokes with a sharp knife to remove the brown skin. (I've tried a variety of techniques, such as blanching the roots in order to make the process of removing the skin easier, but scraping is the only one that worked for me.) If you're not particular about the colour of your soup, I've read that it is not necessary to peel them completely, or at all. Make sure to put the peeled sunchokes into a bowl of cold water with some lemon juice, to prevent discoloration. Chop the sunchokes into one-inch sized pieces. Gently heat olive oil in a medium sized pot, add sunchokes, leek and garlic, and saute for a couple of minutes. Add lemon juice, rosemary sprigs, salt, pepper, and about two thirds of Yerba mate. Bring to a boil, turn the heat down, and let simmer for about 30 minutes. Remove rosemary sprigs (if the colour of the soup is important). In a blender, blend the soup until smooth. If the soup appears too thick, add more of the mate and bring to a gentle boil, then remove from heat. Adjust salt and pepper. Serve with pomegranate reduction.
Pomegranate Reduction
2 large pomegranates
Score the skin of a pomegranate to make 8 parts. Fill a large bowl with water, and break the fruit into 8 pieces, holding it under water (that way you won't get pom juice all over yourself). Separate the kernels from the skin and white parts under water. The kernels should fall on the bottom of the bowl, while the rest will rise on the surface. Discard the skin and white parts, and drain the kernels using a colander. In a high speed blender, carefully pulse the kernels, releasing the flesh and juice, but not breaking down the seeds. Strain through a fine strainer and discard the seeds.
Pour the juice into a shallow dish and place it in the dehydrator at 115F for several hours, until the liquid is reduced to a thicker consistency. Store in a covered container in the refrigerator. The reduction can also be done the conventional way, using the stove.